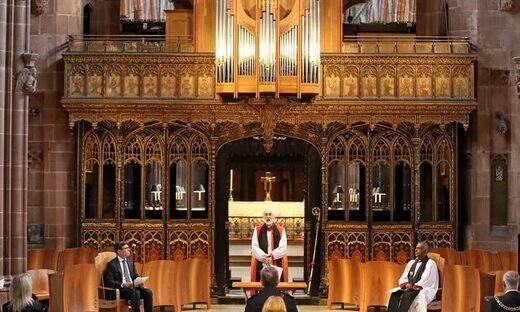 The pace of church closures could accelerate as a result of financial losses caused by the pandemic, a senior Church of England bishop has said, with Victorian urban buildings most at risk.
The closure of uneconomic church buildings, early retirement for clergy, and a restructuring of the C of E's 42 dioceses could all be on the cards
, said David Walker, the bishop of Manchester.
National figures for losses since last March were not available, but it had been a "big hit", said Walker, who is chairing a review of the C of E's priorities and organisational structures for the next 10 years.
Parishes are reported to have lost £40m during the first 10 months of 2020, a drop of almost 8% on the same period in the previous year. As well as a fall in collections at services, parishes have lost fees for weddings and the hiring out of church buildings.
Another report put the C of E's losses as high as £150m, and suggested the number of parishes and bishops could be drastically reduced.
Some of the losses at parish level have been offset by emergency measures taken by the Church Commissioners, who control the C of E's £8.5bn in assets and reserves.
Comment:
Whilst the lockdown has clearly destroyed incomes, it seems the Church of England, more so than most, do have assets to dip into should they wish to do the best for their congregation. It may be a case of now or never. And, anyway, whatever happened to the 700 Church leaders
saying NO
to another lockdown?
The C of E has a history of closing redundant churches, but Walker told an online briefing organised by the Religion Media Centre: "I suspect the pace will increase as a result of Covid."
He said:
"If I had a list of what sort of church is the one that's most likely to require closure, I'd be thinking typically of a mid-Victorian building that was built to last a century ... But the physical structure is tired, it is very large, and there isn't the community around
it that there was when it was built ... They were built to serve populations that just don't exist [now]."
In addition,
dioceses could be amalgamated, and older clergy "might choose to go [retire] sooner rather than later", as a way of cutting costs
, Walker said.

Comment: One wonders how many of these considerations would have been implemented were it not for the current farce? Because, as we've seen with Notre Dame, sometimes a church is much more than just 'another' church (although, obviously, not all churches are Notre Dame). And, as we've seen over the last decade of the governments consolidation of services - such as the merging of multiple hospitals, and the shutting down of village post offices - this, rather quickly leads to poorer quality and less personal services, with some people being cut off from them completely.


The C of E has regularly reviewed the size and number of dioceses over the past decade, but the Covid pandemic had given such discussion added urgency, a source said. But there were no specific proposals being discussed. "Different bishops have very different views on what could or should happen," the source added.
On Tuesday, faith leaders urged caution after
the government announced that places of worship in England could remain open despite heavy restrictions
imposed in the latest coronavirus lockdown.
The C of E said some people "may feel that it is currently better not to attend in person"
and that clergy who had concerns or were shielding should "take particular care and stay at home".

Comment: The Church seems to be actively discouraging people from attending. A significant proportion of England's church attendees are older, they do not know how to use "Zoom" - as if that's any consolation - and, after being the target of nearly a years worth of fearmongering propaganda are likely to already feel discouraged, and so it's likely that church attendance will continue to plummet, meaning attendees are not only cut off from family but now, possibly forever, from their place of worship.


Some clergy expressed anxiety over the exemption in the face of the virus's spread. Alice Smith, the vicar of St John the Evangelist in Brownswood Park, north London, tweeted: "There's a part of me that wishes we had been closed so as not to be going to bed with what feels like an impossible decision."
Another vicar in the north of England wrote to a friend: "I'm really shocked. I feel as if
someone thinks it's
fine to put me
and people I know
at risk
. And if it goes wrong, it will be because I wasn't careful enough."

Comment: This vicar is more concerned about catching a virus, that is, ostensibly, a bad flu, than they are about their 'flock'. Is it any wonder church attendance has plummeted?


Qari Asim, the chair of the Mosques and Imams National Advisory Board, said: "Voluntary closure of mosques should be considered by those mosques where risk assessments suggest that remaining open will pose a serious risk to the wellbeing of worshippers. Preservation of life is an important Islamic principle."
The Board of Deputies of British Jews said synagogues must be "meticulous" in following Covid guidelines.
In Scotland, places of worship were ordered to close under new restrictions that came into force on Tuesday. In Wales and Northern Ireland, they can remain open but must enforce social-distancing measures.
Funerals and weddings with restricted numbers are still permitted across the UK but receptions and wakes are banned.