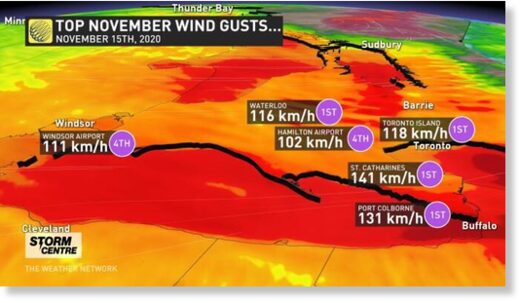 Widespread damaging winds swept through Ontario Sunday, with hurricane force gusts strong enough to cause ground shaking in Toronto.
Heavy rain and fierce winds whipped through much of southern Ontario Sunday, courtesy of a potent Colorado low with widespread impact across the province.
Record-breaking winds were reported throughout the day, including a gust of 118 km/h at Toronto Island and an impressive 141 km/h gust in St. Catharines. Those were both strong enough to set new all-time records for the month of November.
Seismologist John Cassidy flagged an unusual signal on the sensitive seismographs placed along the Leslie Street Spit in Toronto.
"The wind speed was strong enough to be tracked on the data plot from the output of the seismometer Sunday evening," explains Weather Network meteorologist Tyler Hamilton.
The blustery conditions also created flooding along shorelines and a flood warning was issued for Lake Erie by the
Long Point Region Conservation Authority
(LPRCA). The Port Stanley Buoy in Lake Erie recorded waves of 4.7 metres (15.4 feet).
At the height of the storm Sunday evening, over 230,000 Hydro One customers were without power due to trees being blown over and tearing down power lines.
Here's a closer look at the impacts from the potent storm that slammed southern Ontario: