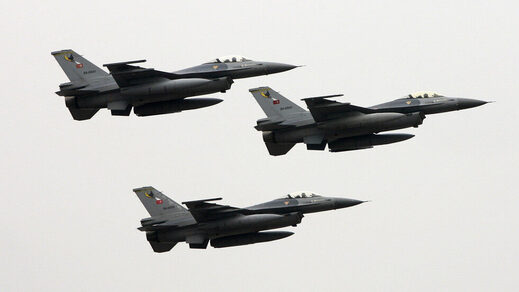 The Azerbaijani military has passed control of its air force operations in the disputed Nagorno-Karabakh region to Turkey, Yerevan claims. Ankara insists no Turkish aircraft was used in the conflict between Armenia and Azerbaijan.
Turkey's military command has allegedly been coordinating the Azerbaijani airstrikes against targets in Nagorno-Karabakh, the Armenian defense ministry's spokeswoman, Shushan Stepanyan, said in a series of Twitter posts on Wednesday.
She claimed Turkish officers "directly control" the actions of Azerbaijan's military aviation from aboard an E-7T early warning and control aircraft flying over Turkish territory between the cities of Erzurum and Kars, west of Armenia's borders.
The Turkish Air Force possesses at least four Boeing 737 AEW&C, also known as E-7Ts in Turkey. Outfitted with an array radar capable of simultaneous area search and fighter control at a distance of over 600 kilometers, these planes are designed for early warning and coordination of airborne missions. Their role in the recent flare-up between Armenia and Azerbaijan remains unclear.
Comment:
Baku claims to have destroyed S-300 air defense system & killed or wounded 2,300 Armenian soldiers as Karabakh clashes continues

Azerbaijan claims to have killed or wounded more than 2,000 Armenian troops during four days of fierce fighting in the contested Nagorno-Karabakh region. Yerevan's own estimate of losses sustained, so far, is considerably lower.

Around 2,300 "enemy personnel" have been killed or wounded since fighting broke out at the weekend, Azerbaijan's Defense Ministry reported on Wednesday. Officials added that an Armenian S-300 air defense missile system was destroyed at the frontline in Karabakh, along with around 130 tanks and more than 200 artillery pieces.

Yerevan had previously denied Baku's claims of killing hundreds of its soldiers. Armenia's Defense Ministry spokesperson Shushan Stepanyan said that 16 servicemen were killed.

Officials in Nagorno-Karabakh, a self-declared republic within the borders of Azerbaijan that is closely allied with Armenia, meanwhile, reported that 80 of its soldiers were killed.
...
The century-old conflict in Karabakh was reignited when the large Armenian-populated enclave broke away from Azerbaijan during the breakup of the Soviet Union. A truce was signed after several years of bloody warfare, under which Nagorno-Karabakh became de facto independent from Baku's control.
Stepanyan claims that Ankara has overseen at least two air strikes that the Azerbaijani forces launched against the towns of Hadrut and Martuni, located in the disputed region. She also alleged that at least two Turkish F-16 fighters took part in these air raids. Yerevan did not reveal if the attacks resulted in any casualties or material damage.
Turkey has
denied
that any of its forces are deployed to aid Baku in its conflict with Yerevan while maintaining that the Azerbaijani army has "the ability and qualifications to achieve victory on their own." On Wednesday, Turkey's Ministry of National Defense issued a statement accusing Armenia of disseminating "false claims" and "propaganda." Ankara stated that Yerevan lacks evidence to justify its claims, claims that cannot be "taken seriously."
Later on Wednesday, Stepanyan published a
video
on her Facebook page, which appears to be a flight-tracker map, purportedly showing the movements of the Azerbaijani Su-25 planes and Turkish F-16 jets over Nagorno-Karabakh. The jets marked as F-16 on the video were, however, moving not from Turkish territory to the south but from a north-western region of Azerbaijan. The video also supposedly showed the Turkish E-7T control aircraft circling above the Turkish territory west of Armenia.
Baku has not commented on Yerevan's statements, while posting a series of videos showing its forces supposedly launching airstrikes against Armenia's artillery positions and a gathering point. The ministry did not name the areas targeted in the airstrikes.
It is not the first time that Armenia has accused Turkey of fighting on the Azerbaijani side.
On Tuesday, it said a Turkish F-16 fighter had shot down an Armenian Su-25 jet - something that both Baku and Ankara denied. At the same time, Turkey has vowed to help Azerbaijan repel
"Armenian aggression,"
offering both diplomatic and military assistance.
Comment:
Russia 'deeply concerned' about reports of mercenaries from Syria & Libya being sent to fight in disputed Nagorno-Karabakh

Moscow has condemned the alleged use of "foreign mercenaries and terrorists" in the conflict between Azerbaijan and Armenia over Nagorno-Karabakh, calling them a threat to the entire region that must "immediately" be withdrawn.

"Militants of illegal armed groups, in particular from Syria and Libya" have been transported to the conflict zone "in order to directly participate in the hostilities," the Russian Foreign Ministry said in a Wednesday statement commenting on the recent reports, adding it was "deeply concerned" about the development that creates "long-term threats to the security of all countries in the region."


The ministry called on the "leaderships of the states concerned" to prevent the use of foreign mercenaries and terrorists and "immediately" withdraw them from the area.
The developments come following an outbreak of violence between the two neighbors over this long-disputed territory. The conflict broke out on Sunday, after an exchange of fire between the Azeri and ethnic Armenian soldiers in the Nagorno-Karabakh region.
Comment:
Armenia isn't looking for peacekeepers from Russian-led CSTO to intervene, says PM Pashinyan



Armenian Prime Minister Nikol Pashinyan has said his country has the means to defend itself in the escalating conflict with Azerbaijan in Nagorno-Karabakh. He indicated Yerevan wasn't planning to seek assistance from its allies.

At a meeting with members of the Russian press in the Armenian capital on Wednesday, Pashinyan stated that his country does not intend to call for an intervention by peacekeepers from the Collective Security Treaty Organization (CSTO). In 1994, Armenia was a founder member of the Moscow-led alternative to NATO, which has six members in Eurasia.

Pashinyan said at the press briefing that "there is no such issue on our agenda." He added: "Appealing to the CSTO is a political issue. It is very difficult to talk about our limits, and when would be the right time to seek assistance. We are working closely with the CSTO, but introducing specific procedures is another question. The Armenian armed forces are able to defend the country."
The ethnic Armenian enclave, which is a self-proclaimed republic but is internationally recognized as part of Azerbaijan, has been in a state of frozen conflict between Yerevan and Baku since the Nagorno-Karabakh war that ended in 1994 with ethnic Armenian victory.
Azerbaijan maintains that 20 percent of its territory is illegally occupied by Armenia. Each side has accused the other of killing civilians, while posting videos purportedly showing their rival's military hardware being destroyed.