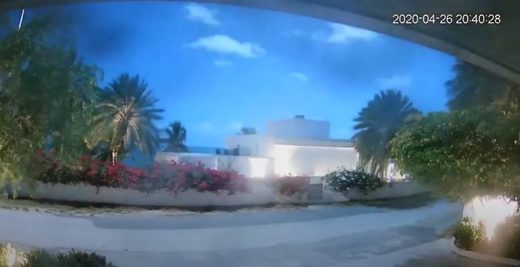 At approximately 8:40 PM on Sunday 26th April 2020, a bright meteor streaked across the night sky, lighting up between Martinique to as north as Anguilla and as west as Puerto Rico.
A brief and bright flash of light was reported from Martinique, Guadeloupe, Saint Martin, Saint Barthelemy, Gustavia, and Puerto Rico.
Flash of the meteor seen at Gustavia:
The American Meteor Society (AMS)
received
7 reports about a meteor fireball seen over Grande-Terre, Saint John, St. John and St. Thomas on Monday.
This
video
was uploaded to their website.
Credit: E. Wellemeyer
According to one report in Guadeloupe, the meteor was seen with a "big red trail with a very bright white ball ahead." Meteors with a red trail typically indicate a high magnesium content as it burns through the atmosphere.