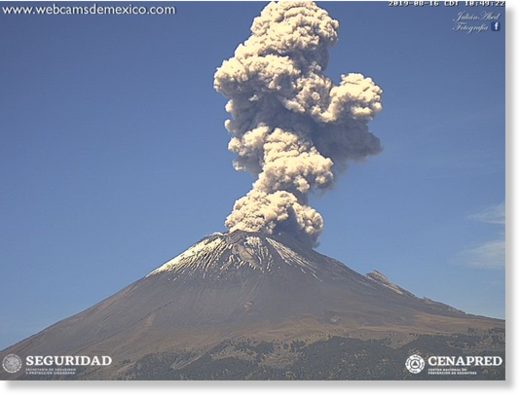 The level of activity of the volcano remains high, with frequent moderate to strong explosions,
which often produce ash plumes of several kilometers height and eject lava bombs and blocks to up to approx. 1 km distance from the crater.
I
n its latest report a few hours ago, CENAPRED reported that during the most recent 24 hour interval, the volcano produced 162 exhalations
(passive emissions of steam, gas and low amounts of ash),
13 explosions
at 00:34, 01:00, 01:45 (image 1), 01:47, 02:08, 02:27, 02:33, 03: 20, 03:39, 05:56, 06:44, 08:10 and 08:27 local time,
as well as 711 minutes of tremor.
Clearly, the flux of magma currently rising inside the volcano is elevated compared to the average of the pat years.
This could calm down gradually again or increase further, something impossible to predict. The alert level remains unchanged at "Yellow Phase 2".