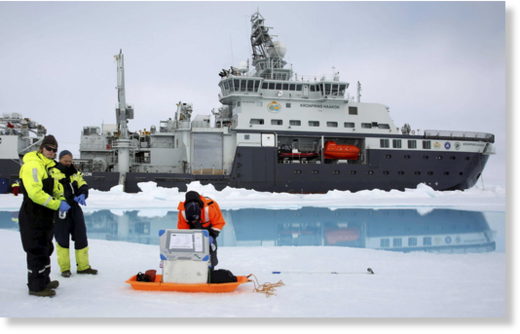 Ice too thick to break through (almost 10 ft thick), and more massive than expected - in the middle of July.
_________
15 July 2019 - The Norwegian icebreaker "Kronprins Haakon" (
Crown Prince Haakon
), on a mission to the North Pole for the Institute of Marine Research, was forced to turn back north of Svalbard after meeting considerably thicker and more massive ice masses than expected, which the vessel was not capable of breaking through.
Thick one-year ice combined with large batches of multi-year ice joined together into powerful helmets, and several of these are impenetrable to us, said Captain Johnny Peder Hansen.
The ice is up to three meters (almost 10 feet) thick in the middle of July, and not even the researchers' long special-purpose chainsaws were able to penetrate the ice.
Polar bears were seen on Bjørnøya this past winter in the middle of the Barents Sea, which shows that the ice edge was very far south, writes Klassekampen.
"In the middle of July we see few signs of thawing and that spring has come.
We had expected more melting and that the ice was more disintegrating, "says Captain Hansen, who for several decades has worked on various vessels in the Arctic.
Secondary
source
The
original source
is
Klassekampen
("The class struggle"), a well known and respected newspaper for the radical left in Norway.
Background info about the mission organized by the
Norwegian Institute of Marine Research
.
Thanks to Alf Fagerheim in Norway for this link