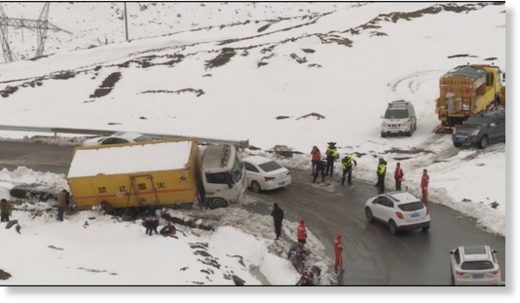 Late-season snow on Tuesday night coated Garze Tibetan Autonomous Region in southwest China's Sichuan Province, catching local residents, tourists and many drivers off guard.
In the Mount Zheduo area, one of the most affected areas, the sprouting grassland was covered with white snow, flinging people back to winter overnight.
The heavy snow disrupted local traffic.
Over 1,000 vehicles were stranded on the Mount Zheduo section of the National Highway 318.
Local police launched an emergency plan in the early hours on Wednesday to disperse the congestion. Large vehicles were temporarily prohibited from using the road, and several departments worked together on snow removal.
At around 9:30 on Wednesday, traffic was tenuously restored.
"Traffic was backed up for seven or eight kilometers.
Luckily there are traffic police officers to direct traffic.
Honestly, I really didn't expect such a big snow in May," said Pu Yuangang, a tourist from Chengdu, capital of Sichuan.
The local meteorological bureau warned that the risk of mudslides has increased as frequent rains are predicted for the region in the coming week.
Garze Tibetan Autonomous Region is in the southeastern part of the Tibetan Plateau with the average altitude around 3,500 meters. Several mountains in the region exceed 6,000 meters in height.