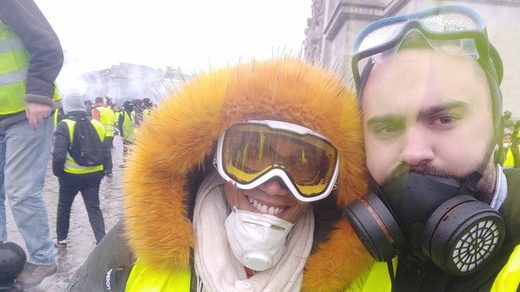 Eric Drouet, one of the Yellow Vests leaders who called on demonstrators to march towards the official residence of Emmanuel Macron, is now under investigation for organizing "unlawful protests," French media report.
The 33-year-old truck driver, who turned into a voice of the powerful movement, made headlines on Thursday.
"Saturday will be the final outcome. Saturday it's the Elysee. We would all like to go to the Elysee. We are all united to the end and we move on the direction of Elysee," he said.
His words were not left unnoticed by French prosecutors who opened a probe against the activist,
RTL
and
BFMTV
report. He is being investigated over
charges of "provocation to commit a crime or misdemeanor" and "organization of an unlawful event."
Before the news of the investigation was leaked to the media, Drouet attempted to explain his ambition to reach the presidential palace.
"All people want to go there, it [Elysee] is the symbol of the [French] Republic," he told BFMTV hosts on Thursday.
In his Facebook post he also
claims that he wasn't planning to attack the residence of Emmanuel Macron. "I call for calm and not the opposite," he insisted.
Meanwhile France is ready to stave off another wave of massive protests called by the Yellow Vests. This Saturday they are to go under the aegis "Act IV'. Stay on the course" and are expected to draw thousands of demonstrators. The authorities are expected to deploy some 89,000 officers and armored vehicles belonging to Gendarmerie, the country's military police.