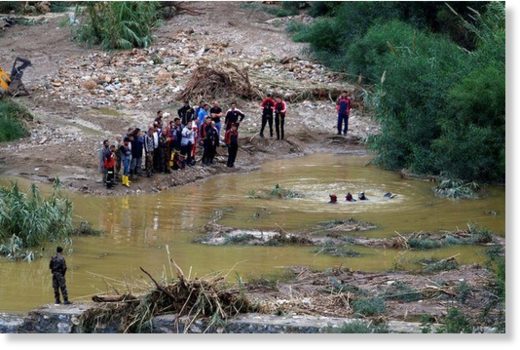 At least four people were killed in flooding in northern Cyprus as hail and rain hammered the island, Turkish Cypriot media reported on Thursday.
The victims died when their car was swept away during heavy rain late on Wednesday, media reported.
Cyprus residents have reported virtually uninterrupted rain since early Tuesday, with some saying it was the heaviest in memory.
Flash flooding from an isolated downpour is not uncommon on the island
, but sustained floods are rare.
Further bad weather was expected on Thursday, with the met office issuing a severe alert warning for the next 24 hours.
"In minutes, it's gone from beautiful sunshine to freezing cold with rumbles of thunder in the distance," one northern Cyprus resident said. People were sewing sandbags to prevent water seeping through window seals and under doors, she said.
Images on social media showed cars swept into the sea or submerged in flood water and water gushing through homes.

Rivers burst their banks, causing damage in the Cypriot capital Nicosia and forcing the partial closure of a motorway linking the city to Kyrenia, a historic harbor town on the northern coast.
Many schools were shut. Damage was reported to the road network from torrential rain in the south of the island on Wednesday.
Source: AP