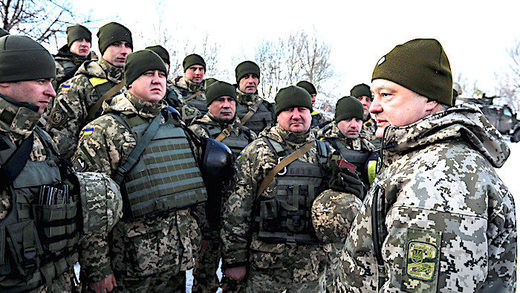 Moscow believes the Ukrainian government is set for a flare-up of hostilities against rebels in the east,
using the newly-imposed martial law to cover up its preparations.
Russia's Foreign Ministry has called on international observers, monitoring the situation in Ukraine, to step up their efforts to prevent possible provocations.
Last week, Kiev imposed martial law in the eastern and southern parts of the country, after Russia blocked its ships which had entered the Kerch Strait, between Crimea and mainland Russia, without authorization.
The move to subsequently enforce martial law "aims to camouflage a new provocation in Donbass", which Ukraine would frame as evidence of Russian aggression,
according to Russia's Foreign Ministry spokeswoman Maria Zakharova.
"Assault and mechanized brigades of the Ukrainian army are being relocated to the conflict zone
after completing intensive training courses with support from US, Canadian and British instructors," she warned, while
the troops are being spread along the disengagement line in an apparent preparation for an offensive operation.
Zakharova said
a staged chemical weapons attack may be used as a pretext
for intensifying the hostilities,
citing reports from the rebel side claiming one was being prepared.
"We are calling on the OSCE [Organization for Security and Cooperation in Europe] monitoring mission to intensify their activities in Donbass. What is needed is a comprehensive picture on the military preparations by Ukraine, not some fragmented pieces of information," she said.
Parts of eastern Ukraine defied the 2014 armed coup in Kiev, which placed an anti-Russian government in power. The new authorities tried to rein in the uprising through military force, but failed to defeat the rebels. Kiev insists that it is evidence of Russian involvement in the conflict, an accusation which Russia denies.