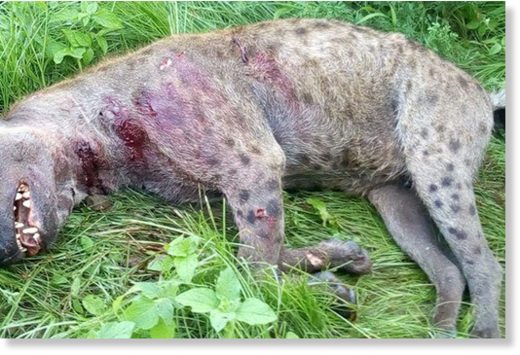 A 70-year-old man is fighting for his life after being attacked by a stray hyena on Monday evening.
The marauding animal descended on two villages at Ingirir and Malkagufu locations in Wajir North sub-county,
in an incident that left four people seriously injured.
PANIC
Area chief Abdikadi Omar Dayib confirmed the incident, saying that the elderly herdsman was coming from grazing his goats in Fulo area before the attack that threw the two villages, which are several kilometres apart, into a panic.
Mr Dayib said that the victim suffered more than 20 bites on his hands and legs after trying to free himself from the hyena before scurrying off.
"Instead of the hyena going for the goats
it went straight for the herder," said the chief.
He added that the hyena also bit another man, 31 years, injuring his left hand.
A group of women and some boys, however, escaped unhurt after they ran for their lives on seeing the beast.
MANHUNT
The victims are currently receiving treatment at Ingirir dispensary.
The incidences come a day after two other victims were attacked
in Malkagufu area, triggering villagers to launch a search for the animal, aided by police reservists.
The hyena was later shot dead.
Mr Dayib expressed concern that the hyena was now targeting humans instead of goats or sheep, questioning the change in behavior.
He appealed to the Kenya Wildlife Service to send a team to secure the area and prevent similar attacks in future.
Cases of human-wildlife conflict have been on the rise in the county, with many victims suffering great injuries from hyena attacks.