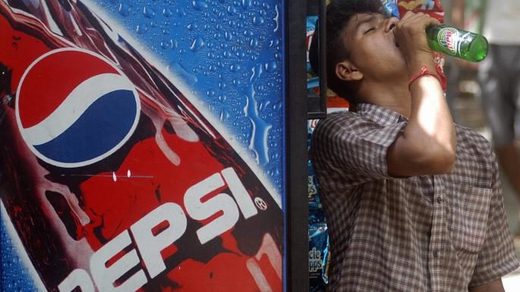 The country's leading charity for people with diabetes has been criticised over a £500,000 partnership with the soft drinks giant Britvic, which sells brands such as Tango and Pepsi.
Diabetes UK said it has agreed the three-year deal with the beverage producer despite the link between consuming too many sugary soft drinks and the life-threatening disease.
There are 3.8m people in England with type 2 diabetes, with about 200,000 new diagnoses every year. About 90 per cent of people with the disease are obese or overweight and consuming sugary drinks can increase the risk. The disease is associated with heart disease, amputation and blindness.
Diabetes UK said it would continue "to hold the food and drink industry to account", but the partnership with Britvic has been criticised as "appalling".

Comment: Because it's so easy to hold someone to account when they're the ones giving you a paycheque.


Dr Simon Tobin, a GP who works in Southport, Merseyside, said: "I've been diabetic lead at my practice for 25 years. I've decided that I cannot recommend my patients are supported by Diabetes UK. How can they trust a charity that has partnered with Britvic?"
The radio presenter Jon Gaunt, who put his type 2 diabetes into remission by cutting out sugar and processed foods, said he was "disgusted" at the deal and described it as "blood money".
He added: "This is a company that still pushes sugary products. Diabetes UK has lost all credibility by doing this."
Last Wednesday Diabetes UK said it was "thrilled" to announced the partnership, which will help to support children with type 1 diabetes, but has since been hit by a backlash on social media.
Comments under the announcement on Twitter said: "Is this a joke?" and "It's just madness. Why don't you just partner with Cadbury?"
Britvic owns a range of brands including Tango and Robinsons. It also sells soft drinks manufactured by the US giant PepsiCo including Pepsi, 7UP and Mountain Dew. It says it has reformulated its products to remove or cut down on sugar.
The day after the partnership was announced the charity revealed that 6,836 children and young adults in England and Wales under the age of 25 were reported to have type 2 diabetes in 2016-17, about 10 times the number previously reported. The condition is more aggressive in children.
Dan Parker, a former advertising executive and a founder of Living Loud, which wants curbs on the marketing of sugary and fatty foods to children, said: "It's an astonishing decision.
"I can't see it is any more valid for a diabetes charity to take money from a sugary drinks company than it would be for Cancer Research UK to take money from Marlboro."
Aseem Malhotra, a cardiologist who has campaigned about the health risks of excessive sugar consumption, said: "Diabetes UK has not done nearly enough to warn people of the risks of excessive sugar in their diet. It is now a seriously conflicted organisation."
Britvic has removed more than 20 billion calories from the UK diet since 2013 by reformulating its drinks and 72 per cent of its brand portfolio is exempt from the government's soft drinks levy.
It said it looked forward to working with the charity and its vision of "a world where diabetes can do no harm".
The money will be raised by corporate donations and employee fundraising.
Diabetes UK said the partnership would fund "vital work".