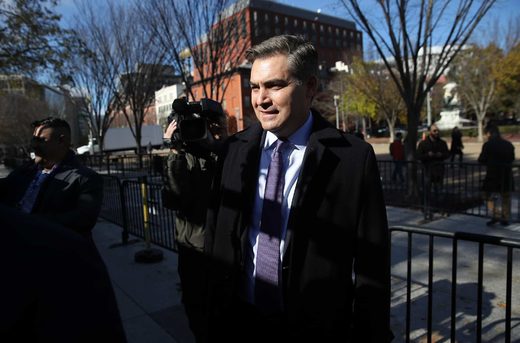 White House officials sent Acosta a letter stating they made a "preliminary decision" to suspend his pass after 14 days
The White House will suspend CNN reporter Jim Acosta again, according to a report by CNN's Brian Stelter.
Stelter writes:
If you thought the Trump administration would seek to settle CNN and Jim Acosta's lawsuit out of court... think again.

After CNN won a temporary restraining order on Friday, forcing the White House to restore his press pass for 14 days, White House officials sent Acosta a letter stating that his pass is set to be suspended again once the restraining order expires.

From the looks of the letter, the W.H. is trying to establish a paper trail that will empower the administration to boot Acosta again at the end of the month.
CNN issued a statement in response to the White House, writing, "The White House is continuing to violate the First and 5th Amendments of the Constitution. These actions threaten all journalists and news organizations. Jim Acosta and CNN will continue to report the news about the White House and the President."
Acosta's attorneys
objected
to the White House letter, claiming it was "an attempt to provide retroactive due process" in court filings on Monday.
"To say the least, the letter is a disappointing response to the court's decision and our attempts to resolve the matter amicably. More fundamentally, though, it is further evidence of your clients' animus towards Mr. Acosta based on his work as CNN's chief White House correspondent," wrote his attorney.