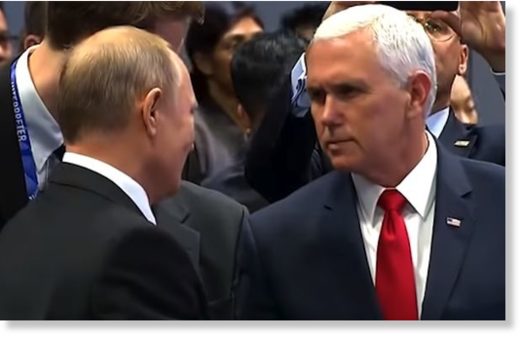 Forget the All-Blacks 'Haka', ignore Foreman-Frasier, Drago-Balboa, and Ortiz-Liddell, the honor of the greatest (or perhaps most awkward) staredown in history now goes to US Vice President Mike Pence...
Having been blamed for everything from Trump's election victory to USA soccer team's loss to England last week, Russia faced accusations all weekend and was reportedly confronted by the US contingent over "meddling."
As The Sun reports, Pence and Putin "discussed the upcoming G20 Summit and touched on the issues that will be discussed when President Trump and President Putin are both in Argentina for the summit," according to the vice president's press secretary, Alyssa Farah.

An NBC reporter tweeted: "New per the @VP's Office-> The VP's office says Vice President Pence directly addressed Russian meddling in the 2016 election in a conversation with Vladimir Putin on Thursday in Singapore.

"The conversation took place following the plenary session this afternoon at ASEAN."
But, it was the following clash of the titans that caught most people's attention.
As the Russian president joined the that Pence shook Putin's 'deadly' hand, met his 'steely KGB-trained' gaze, and desperately tried not to smile or blink for 20 seconds
as Putin appeared to chat amicably with the US VP...
While Putin has (if his accusers are to be believed) grappled his opponents to death with his bare hands (remember he is a sinister KGB agent and jiu-jitsu expert); we suspect the only thing VP Pence has gripped tightly in his hands is his bible.
Sadly, John Bolton then blew the tough guy act (or is he Mike Pence's 'good cop') as he does his best impression of a teenage girl meeting their popstar idol for the first time...