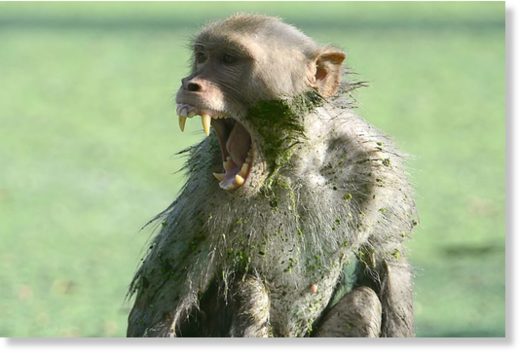 Bhoomi Devi, 58, bled to death after being attacked outside her home in Agra, India
A woman has been killed by a monkey - just days after a 12-day-old baby died nearby in a similar attack.
Authorities confirmed Bhoomi Devi was fatally injured by primates in the Indian city of Agra.
The 58-year-old suffered severe injuries, and medics were unable to save her.

A relative said that she bled to death as a result of the attack, which happened outside her home.
A family member told
NDTV
: "She had lost so much blood that doctors could do nothing to save her."
The latest tragedy, which happened on Wednesday, happened just five days after the child, called Arush, was snatched from his mum as she breastfed him.
Arush was carried away, as his panicked parents gave chase and neighbours hurled stones at the monkey to try to get it to drop him.
As a result of the two deaths, calls have been mounted to start removing the 25,000 monkeys in the city, which is home to the Taj Mahal.
Monkeys are currently protected in Agra.
Activist Mukesh Jain told a meeting: "For over a decade we have been demanding permission to transfer monkeys to forested areas and also setting up of a facility to sterilise monkeys, but so far we have failed to get permission from government agencies."
Despite the desperate efforts to rescue the little boy, he was found bleeding heavily on the roof of a neighbour's home in India .
His heartbroken dad, Yogesh, said he had no pulse.
The youngster, from the northern state of Uttar Pradesh, was taken to a local hospital, but was sadly declared dead on arrival.
Recalling the incident late on November 12, Yogesh said the monkey ran into his family's home through the open front door.
"The front door was left open and my wife was breastfeeding the baby when a monkey suddenly ran into the house," he told local media.
The dad added that the creature grabbed Arush by the neck and ran off before his breastfeeding mum, Neha, could do anything.
The couple gave chase, but they tragically couldn't save their boy.
Neighbours in Runakta, a small town on the outskirts of Agra, reportedly rushed to help after hearing Neha's screams.
Agra Police Assistant Superintendent Abhishek said the locals "threw stones at the monkey to force it to drop the baby".
"But by the time he abandoned it, he had already attacked him severely on the face," Abhishek told CNN .
Arush was auto rickshaw driver Yogesh and Neha's only child.
The couple have been married for two years.
Local police confirmed Arush's body had been sent for an autopsy and would soon be returned to his family for burial.