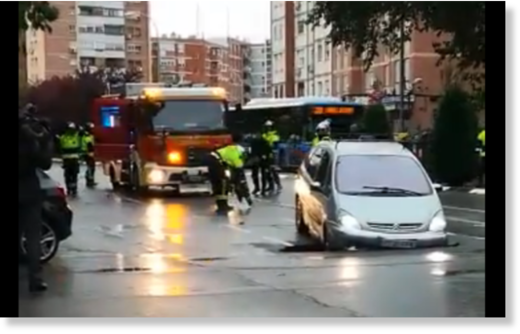 A car became stuck after falling into a sinkhole which opened up in a Madrid neighbourhood this morning (Monday).
The sinkhole appeared between Marques de Corbera street and Gerardo Cordón street, in the La Elipa neighbourhood according to emergency services.
A similar sinkhole opened up last Friday in the same area which affected the structure of a building.
ÚLTIMA HORA
Nos llega más información del nuevo hundimiento que se producía esta mañana en la carretera de la Avenida Marqués de Corbera con la Calle Gerardo Cordón. Este nuevo socavón tiene una profundidad de aproximadamente 15-20 metros de profundidad. Ya han retirado el coche pic.twitter.com/R7nJ59IkVx

— La Elipa (@La_Elipa) November 5, 2018
Firefighters were called to the scene and, as seen in the video, were able to successfully pull the vehicle from the sinkhole using a winch.
No injuries have been reported although the driver of the Citroen Picasso involved in the incident told the press he had a "big scare".
An investigation is underway in order to determine to what extent the appearance of a sinkhole threatens the surrounding infrastructure in La Elipa.
A water problem is being initially blamed for the sinkhole's formation, causing earth movement beneath the ground.
As such, filling the hole with concrete is not a viable option.