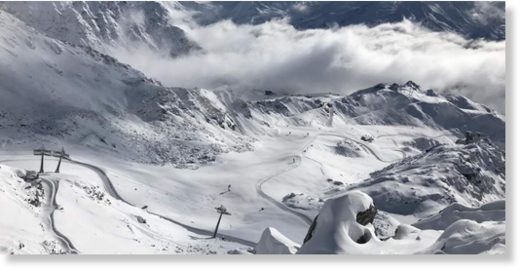 Verbier has announced they'll be opening some slopes this Friday, November 2nd,
following heavy snowfall across the Alps, which brought the Swiss resort 60cm of fresh snow so far.
"The Indian summer has indeed ended and gave way to a winter scenery that has been on the station for a few days.
Indeed, more than 60cm of fresh snow cover the slopes of Lac des Vaux.
Thanks to this snowfall and the machine-made snow, we can open our domain as of Friday 2 November with excellent conditions," a resort statement reads.
The opening of the Attelas-Ruinettes sector will follow as soon as possible according to the next weather conditions and the work done by our snowmakers.
The Le Châble - Verbier gondola, the Verbier gondola to Les Ruinettes and the Funispace lifts will all provide access to open terrain, which will be served by the Chairlift Lac des Vaux 1 serving the Lac des Vaux slope. A 1 day lift pass will cost CHF 42- / adult
For the rest of November, the slopes will be open every weekend (Saturday and Sunday) with daily opening scheduled from early December.
Ski areas have now reported up to

1.8m (six feet)

of fresh snow since the weekend
and a number have announced openings over the coming few days, including Sulda in Italy and Glacier 3000 in Switzerland.
However one summer ski area, Passo Stelvio in Italy, has been forced to close early with the pass road it is accessed by closing for the winter a week earlier than scheduled due to a 1.5m snowfall there.