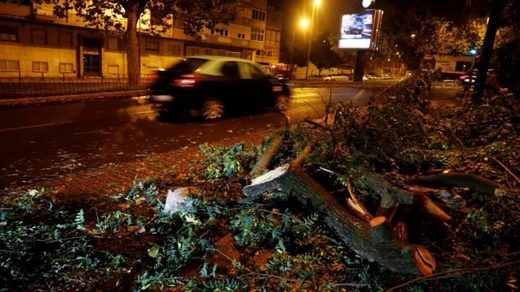 Hurricane-force winds have brought down hundreds of trees and left more than 15,000 homes without power in Portugal.
The remnants of Hurricane Leslie swept into the centre and north of the country overnight on Saturday.
There have been no reports of deaths or injuries, but officials have warned people not to venture outdoors, and a number of flights have been cancelled.
The storm, one of the most powerful to ever hit the country, is now heading over northern Spain.
Winds gusting up to 176km/h (109mph) were recorded after the storm struck the mainland.
Most of the power cuts are in Leiria district and on the outskirts of the capital, Lisbon, although other areas are affected too.
Hundreds of people remained in an arts centre in Figueira da Foz after a concert because of the high winds.
Sunday's Lisbon marathon is still expected to take place, though with an hour's delay to the start,
Spain's El Pais reported
.
It is rare for an Atlantic hurricane to reach the Iberian Peninsula, and it is thought this could be the most powerful to hit Portugal since 1842.
However, Hurricane Leslie, which formed on 23 September, was downgraded to a tropical storm before it made landfall.
The Spanish Meteorological Agency (Amet) said Leslie was likely to move north-east through the Iberian peninsula, with affected Spanish regions seeing wind speeds of up to 100km/h and heavy rainfall.
However it said its exact trajectory was uncertain, probably entering Spain near the city of Zamora.
Amet said on Sunday morning large areas of Asturias, Castille and León and Cantabria would be affected, with north-eastern areas hit in the afternoon.