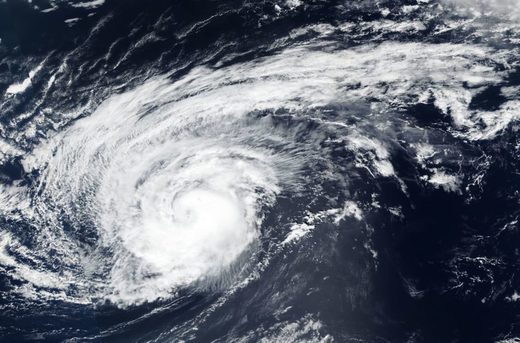 After three weeks meandering around the Atlantic Ocean, Leslie is expected to finally crash ashore near Lisbon on Sunday,
marking the third time a storm that powerful has made it to the Iberian Peninsula in the past 176 years.
Storm warnings cover Portugal, according to the
Portuguese Institute for Sea and Atmosphere.
There is a 70-to-80 percent chance tropical storm winds will reach Lisbon by about midday on Saturday, the U.S. National Hurricane Center said. The storm will make landfall early Sunday, local time.
"Leslie is expected to bring near hurricane-strength winds on Saturday to portions of Portugal as a powerful post-tropical cyclone," Dan Brown, a senior hurricane specialist at the Hurricane Center, wrote in an analysis. "Tropical-storm strength winds are also likely to affect portions of western Spain."
In addition, Leslie will bring as much as 4 inches (10 centimeters) of rain.
"Whether it will be technically a tropical cyclone or not, it is going to be a big storm for them," said Jeff Masters, co-founder of
Weather Underground
, an IBM company.
"It's kind of unprecedented for them."
In 1842, Spain was hit by a large storm that scientists concluded was a hurricane in a 2008 study. On Oct. 11, 2005, Vince made landfall near Huelva, Spain, about 383 miles southwest of Madrid, as a tropical depression with sustained winds of 35 miles per hour.
Leslie was rated a Category 1 hurricane on the five-step Saffir-Simpson scale with top winds of 85 miles per hour at 5 p.m. New York time Friday, the hurricane center said. It was about 895 miles south-southwest of Lisbon.
A tropical storm warning has been issued for Madeira Island, an autonomous region of Portugal in the Atlantic off the African coast. Cold ocean water and wind shear will disrupt Leslie's structure, robbing it of its tropical characteristics.
While its winds aren't as strong as Hurricane Michael, which devastated the Florida Panhandle this week, Leslie is about 20 percent larger in size. Tropical-storm strength winds reach out 230 miles from its center, about the distance between New York and Boston, and hurricane-force winds extend 70 miles.
Leslie became a named storm on Sept. 23 and since then has wandered around the central Atlantic waxing and waning in strength. It became a hurricane again on Wednesday.
-
With assistance by Lucia Kassai