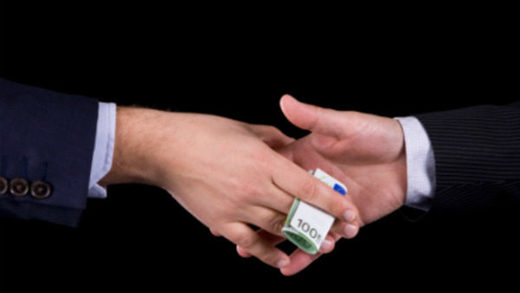 Despite government promises to tackle corruption, Ukrainians say they encounter bribery even more frequently in 2018 than they did in 2015, according to a study published on Sept. 25.
A joint study by the Kyiv International Institute of Sociology and Pact, an international non-profit, found that the index on
demanding bribes rose from 20.9 points in a similar study performed in 2015, to 25.4 points in the 2018 study.
The index tracking the giving of bribes also rose, from 6.6 points in 2015 to 7.8 points in 2018.
Almost
37 percent of those polled claimed they had been asked to give bribes
, and almost 15 percent said they had offered bribes in 2018, according to the poll.
The study was conducted in July and August, with more than 10,000 people polled nationally. Similar studies have been conducted every four years since 2007.
Ukrainians were asked for bribes most often at universities, in courts, at government agencies that issue state permits, and in police stations
.
Another alarming sign was that in 2018, for the first time since polling started,
the number of people who said they would stand up to corrupt officials was less
than the number who said they would give in to their demands.
"There is a disappointment in almost all the indicators," said Ivan Presniakov, an anti-corruption expert for the ENGAGE program of Pact, who was involved in the research.
Presniakov said this was due to
the high expectations that people had after the EuroMaidan Revolution
, which ousted the notoriously corrupt former Ukrainian President Viktor Yanukovych from power in February 2014.
As time has passed, people haven't seen enough changes, Presniakov said.
Poll respondents still see corruption as the biggest problem after poverty and the Russian-instigated war in eastern Ukraine.
As in previous years, Ukrainians said
the courts were the most corrupt institution
they encountered in everyday life. They were followed by the
medical system, prosecutors offices, customs services, government bodies
involved in the privatization and use of land, the tax service, and services issuing government permits.
Those polled also said parliament was the most corrupt branch of power
, followed by the Cabinet of Ministers and Presidential Administration.

Comment: But wait, wasn't the US-backed coup supposed to remove the corrupt officials?


People were also more concerned with high-level corruption (73 percent)
than petty corruption (53 percent) or corruption in business (47 percent.)
The failure to prosecute corrupt top officials is another reason why people are disappointed with the results of the revolution, Presniakov said.
"People want changes here the most, but they don't see those changes," he said.
There is one positive finding in the report though, Presniakov said. The number of people who said that bribery cannot be justified under any circumstances increased to almost 42 percent in 2018, up from 37 percent in 2015, according to the report.