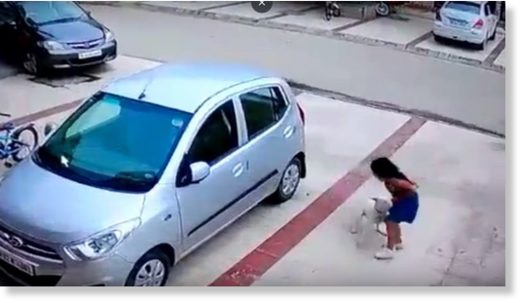 A dog attacked a minor girl in Rohtak on Monday evening. The dog was a pet, and the owner was arrested after the attack. He was later granted bail. The dog mauled a six-year-old girl whose condition is said to be critical after the incident. The attack took place at Omex City in Haryana's Rohtak, and was caught on a CCTV camera.
The girl was playing outside her house when the dog attacked her. Her mother saw the animal attacking her daughter in a CCTV camera installed outside the house and rushed to rescue her.
The dog bit the victim's neck, chest and ear.
Locals somehow managed to rescue the girl from the clutuches of furious animal. A complained was filed in Urban State police station.
In the video, the girl is seen riding on her bicycle when she notices the dog. She runs and tries to hide. However, the dog comes after her and attacked her. Locals beat the dog with sticks to save the girl. The owner of the dog, Ravinder, was arrested a day after the attack. He was produced before a local court which granted him bail on Wednesday.