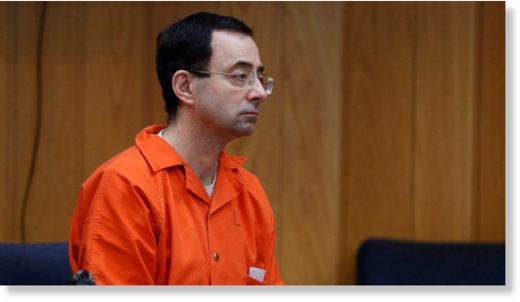 California resident Erika Davis is suing Michigan State University (MSU), claiming that she became pregnant after disgraced doctor Larry Nassar raped her in 1992 and that university officials covered up the incident.
According to a lawsuit filed on Monday, Davis, who was a 17-year-old field hockey player at the time of the alleged incident, sought medical treatment for a knee injury when Nassar drugged and raped her, videotaping the assault which she said led to her pregnancy. She said she later had a miscarriage, which she claimed was covered up by George Perles who was athletic director in 1992.
Davis stated that Perles intervened after her coach complained about the incident, forcing campus police not to investigate it.
"While the protocols and procedures mentioned in this lawsuit do not reflect how sexual assault claims are handled at MSU, we are taking the allegations very seriously and looking into the situation," Michigan State spokeswoman Emily Guerrant
said
Tuesday.
The lawsuit was among many others dragged into court on Monday to meet the deadline for legal claims against Michigan State, which agreed to pay almost $500 million to settle lawsuits brought by Nassar victims.
Earlier this year, Nassar, who worked for more than 20 years as the US gymnastics team physician, was sentenced to up to 175 years in prison after pleading guilty to molesting under-aged gymnasts under the guise of medical treatment.
Davis became the first woman to allege that Nassar raped her through intercourse, as all other victims revealed the former doctor digitally penetrated them during medical examinations.
MSU police Chief Jim Dunlap said it was "nonsense" that the department would have ignored the rape complaint by request of Perles.
"It just doesn't happen. We just don't do things that way," said Dunlap, who was a member of the police department in 1992.
Merrily Dean Baker, who became MSU athletic director after Perles, stated she had "absolutely no knowledge" of the rape allegation involving Davis.