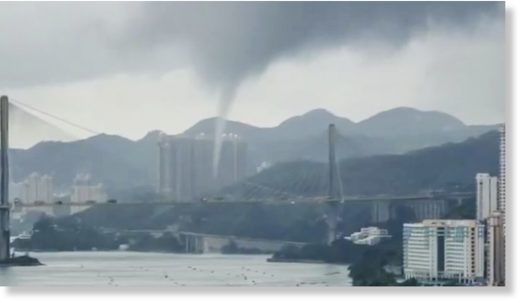 The Hong Kong Observatory issued a red rainstorm signal at 6.40pm, warning that heavy rain had fallen and was expected to continue, which could cause serious flooding and traffic congestion.
It came after a day of gloomy weather, with strong winds and high waves leading to a ferry sinking and causing a waterspout near the Ting Kau Bridge.

Localised flooding was reported in parts of Yuen Long and Tai Po leaving some people stranded at work or at home.
"Heavy rain will bring flash floods...people should stay away from watercourses. Residents living in close proximity to rivers should stay alert to weather conditions," the Observatory said.
"Further heavy rain could cause, if it has not already caused, serious road flooding and traffic congestion. People who have to travel should carefully consider the weather and road conditions and take necessary precautions."
At 4.30pm, the Observatory said heavy rain in the New Territories was especially affecting the Pat Heung, Kam Tin and Sheung Shui areas, with Tuen Mun, Shek Kong and Tai Po also seeing large amounts of rainfall.
Shek Kong was the worst affected with between 300 and 400 mm of rain falling in the area by 6.45pm.
Squally showers and thunderstorms are forecast for Thursday and while Friday will also see wet weather, sunnier spells are on the horizon for the weekend and early next week, the Observatory said.
This week, there have been four consecutive days of rainstorm warnings of amber and above, something not seen since September 2002. From Sunday till Wednesday, the Observatory issued seven rainstorm warnings, including two reds and five ambers.
Earlier on Wednesday several online posts reported sightings of a waterspout - the second in three months
- at around 11.30am near the bridge connecting the northwest of Tsing Yi and Tuen Mun Road in the New Territories.
Videos circulating online showed large funnel clouds near the bridge moving towards the shore.
The Hong Kong Government Lifeguards General Union posted on its Facebook page a video showing the waterspout reaching the nearby Lido Beach on Castle Peak Road at 11.35am and an empty canoe on land being blown around.
The union warned people to find shelter as the weather was unstable.