Archbishop Eamon Martin was in the audience as the campaigner spoke at the RDS.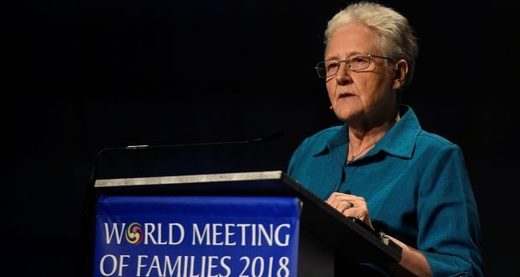 Campaigner and abuse survivor Marie Collins told an audience at the RDS today that robust structures need to be put in place to hold Church leaders who protect predators to account.
There are still people in the Catholic Church, clergy and lay people, who believe the abuse issue is some kind of media conspiracy - and who think that survivors who campaign for justice are out to destroy the institution, she said.
Collins made headlines last year when she announced she was resigning from a special Vatican commission created by Pope Francis to tackle clerical abuse, citing lack of progress on vital issues.
Her appearance as part of a panel at the Catholic Church's World Meeting of Families pastoral congress today was attended by a crowd of around 300 people including Primate of All Ireland Eamon Martin and a large number of reporters from Ireland and overseas.
The Dublin campaigner was critical of Pope Francis's letter addressing clerical child abuse, issued earlier this week, saying his statement and apology lacked a plan of action.
Speaking today she said that proper structures were needed to hold accountable those in leadership who protect predators "not only those in leadership in diocese etc. but in the Vatican itself".
"Anyone in the Vatican who would stand in the way of proper protection of children should be accountable as well.
And this accountability should have strong sanctions for the guilty - dismissal from their post, removal of their titles and privileges and if necessary removal from the Church and the clergy entirely.
Collins spoke alongside other experts in the area as part of a panel on safeguarding children and vulnerable adults, including Filipino psychotherapist and member of the Pontifical Commission for the Protection of Minors Gabriel Dy-Liacco and Barbara Thorp, the former head of the Office for Pastoral Support and Child Protection in Boston.
The event was moderated by Professor Sheila Hollins, a former member of the Pontifical Commission for the Protection of Minors (the same panel Marie Collins resigned from last year).
Collins told the event that a zero-tolerance policy needed to be put in place to ensure that any priest who abuses a child is removed from the Church immediately.
To applause, she added: "If Canon Law at this moment doesn't allow for that to happen then write a new Canon Law, that is the answer."
"Sadly more often Canon Law has been used to protect the abuser than to punish them. Here in Ireland in the '90s we saw bishops being told by the Vatican not to report abusing priests to the police as it was against Canon Law and that is just untenable."
Families needed to call on the Church to make the changes necessary to ensure the protection of children and other vulnerable groups, Collins insisted.
"Every child in the world should be safeguarded equally," she said, questioning why the US was the only country in which the Church had incorporated mandatory reporting into Canon Law.
That example should be followed in every country, Collins said.
Under Irish law, mandated persons like teachers and members of the clergy have a legal responsibility to report suspected abuse of children.
Speaking earlier this week, Taoiseach Leo Varadkar also said he agreed that the Church should introduce mandatory reporting for clerical sex abuse, adding:
Just because it is not the law in every country does not mean it is not the right thing to do.
The Taoiseach is due to hold a short, fifteen-minute meeting with Pope Francis during the pontiff's two-day visit this weekend. Speaking to reporters he would not comment on whether he would raise the issue of mandatory reporting for the Church.
Today's RDS panel was due to be chaired by Boston Cardinal Seán O'Malley, who heads the Vatican's Commission for the Protection of Minors.
He announced last week that he would have to pull out of the event saying his "personal attention and presence" was required in a crisis at his archdiocese's St John's seminary. His withdrawal followed
allegations of abuse
at the institution.
Collins and the other speakers taking part in today's event also addressed the media at the pastoral congress's daily press conference.
Archbishop Eamon Martin was in attendance throughout the talk and the press conference. After the panel discussion Martin, accompanied by Dublin Archbishop Diarmuid Martin, also went onto the stage to thank the participants.
Pope Francis has promised to meet abuse survivors during his time in Ireland this weekend. Details of the meeting aren't being made public until after it has taken place.