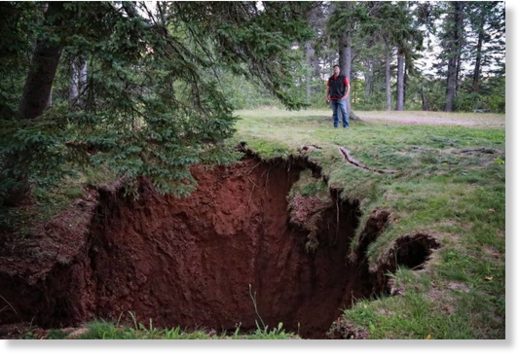 Oxford residents got a bit of a shock late Monday evening when a small sinkhole in the popular Lions Park got a lot bigger.
Mark Rushton was playing catch with his son in the park while his wife participated in a yoga class inside the Lions Centre when he heard a whump and felt the ground vibrate.
"I had just dropped my wife off for her yoga class and my son was going to go for a swim in the lake but it was too chilly so we decided to throw the ball around," Rushton said. "I just heard the rush of water and didn't think too much of it and then I felt the thump so I went to investigate."
Rushton said a part of the park was already cordoned off, but the hole had gotten much wider and a lot deeper.
He estimated it was 30 to 40 feet wide in one place and more than 30 feet deep.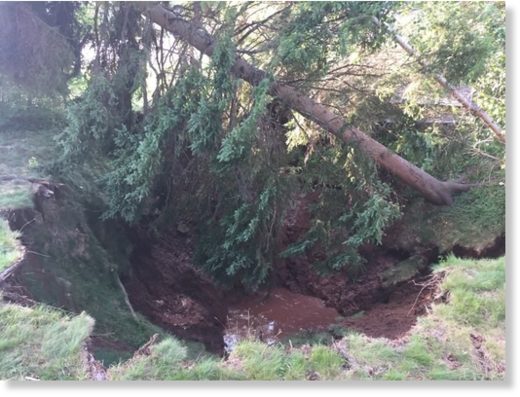 He said if anyone had been near the cordoned off area they would've fallen in.
"If I had to guess I think the water was coming from the other lake on the other side of the park," he said.
Police and fire were quick to arrive on scene and close the park while the Lions building was emptied.
It's not known if there is any threat to the building that is home to the Oxford Lions Club and serves as a community centre.
Shaun Whalen was also in the park taking photos of the sunset when he heard the commotion. He shot a video of the hole and took several photographs.
He said there had been a small hole there. He was talking to a member of the Oxford Lions Club who told him they had just put gravel in the sinkhole.
"I started laughing and said 'I think that load of gravel is probably in Port Howe by now," he said.
He said the water was so loud that if you were standing near the hole you couldn't heard someone else talk.
Fire and police cleared the scene later in the night and the park is closed until further notice.