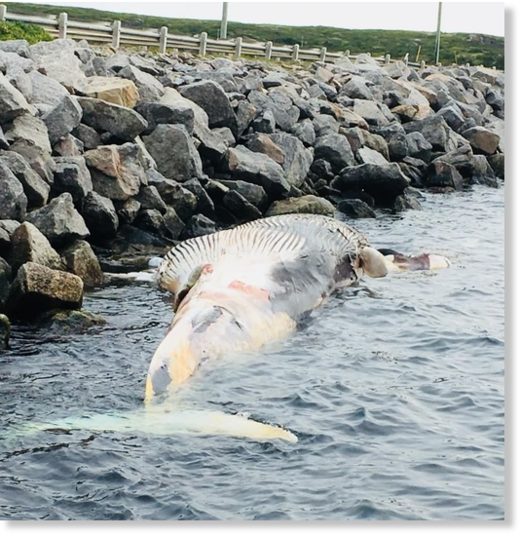 A dead whale has washed up on the rocks near in Greenspond, close to the small island's causeway.
Josephine Kelly-Janes, who has a summer home on the island in Bonavista Bay, said she heard about the whale on Saturday morning and drove down to have a look.
"We put the windows down and the smell was so rancid, we had to put them back up," she said.
The body of the marine animal seems to be stuck on the rocks, she said. "The only way he will move from there is if the wind changes, and it's a mighty that would have to take [it]."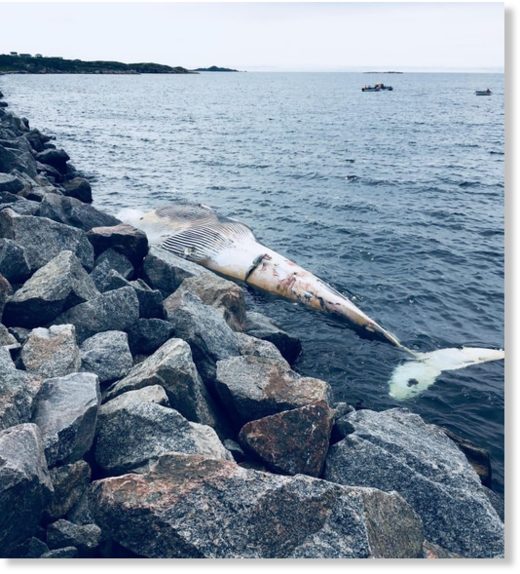 Arthur Jarrett, a former fishermen who lives in Greenspond, said a whale carcass was spotted drifting in the water on Friday, about 1.5 kilometres offshore.
"Someone said ... they thought it was a boat overturned," he said.
Kelly-Janes estimates the whale is about 12 or 13 metres long, that it's a humpback and that it's been dead for a while, as the carcass appears to be in rough shape.
"It's sad. It didn't look so pretty as when they're dancing in the water just in front of my patio," she said. "But we all end up there."
CBC News has reached out to Fisheries and Oceans Canada, as well as Greenspond's mayor and town clerk, but did not immediately hear back.