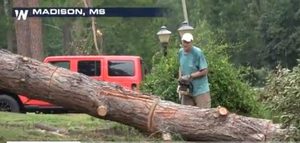 A rare August tornado touched down in the Jackson Metro on Friday Evening after 5PM.
The tornado was rated an EF1 and tore through the northern suburbs of Madison and Ridgeland between I-55 and the Natchez Trace.
Damage occurred to numerous homes in the Sandalwood Subdivision. Numerous homes had roof damage and many trees were flattened. At the Madison Airport, the tornado passed within yards of an official weather station. A wind gust of 97 mph was recorded as it moved by.
August tornadoes are quite rare for Mississippi. Most tornadoes that touch down in August in Mississippi and Alabama are the result of tropical systems passing through the area, similar to last years Reform tornado on August 30th.
But this tornado was the result of several outflow boundaries merging, causing ideal local conditions for a tornado to form. In fact,
since 1985 this is only the 4th non-tropical tornado the National Weather Service in Jackson has surveyed.
See the full details of the NWS Jackson Survey
here
.