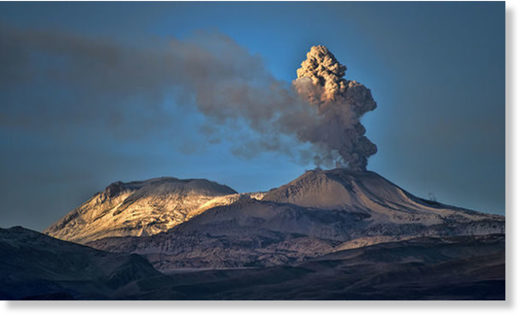 Peru's Sabancaya volcano, which is located less than 50 miles from the country's second city, Arequipa, has begun erupting, sending a column of ash
more than two miles into the air.

The latest phase of eruptive activity follows reports of explosions at the volcano averaging 23 per day between August 6 and 12, as well as earthquakes and high levels of toxic sulphur dioxide gas.
The Volcano Discovery website characterised the eruption as "intermittent" while the Geophysical Institute of Peru (IGP) tweeted yesterday: "The ash from the Sabancaya was dispersed today towards the Northeast, East and Southeast of the volcano.
"The most important explosion of this day generated an erupting column of 3,500 metres from the base of the crater."
Sabancaya, which is 5,976 metres high, is considered to be part of the Central Volcanic Zone of the Andes, one of three distinct volcanic belts in the vast mountain chain.
It has erupted on numerous occasions, with Spanish historical documents mentioning probable eruptions in 1752 and 1784.
However, after this, it was dormant for more than 150 years before reawakening in 1986, culminating in a large eruption in 1990.
On this occasion, ash reached heights of 4.3 miles, with strong earthquake activity, and as many as 4,000 people displaced from the area.
It has been active ever since with the emission of ash and gas.
Since 2013, activity has increased, and an eruption occurred in 2014, with associated high levels of sulphur dioxide.

Activity increased still further in 2016, and since June 2017, a persistent gas plume has hovered above the volcano, with repeated emissions of ash and several alerts from the local population.
Arequipa, Peru's second-biggest city with 860,000 people, which is located a mere 43 miles away, is generally regarded as one of the most vulnerable cities in the world when it comes to volcano eruptions, with six - Sabancaya, El Misti, Ubinas, Huaynaputina, Ticsani and Tutupaca - all nearby.
Peru's Institute of Geology,Minign and Extraction ranks it third in the world in measurements for vulnerability.
The report concludes that an eruption from Misti Volcano, which is barely ten miles away, could see high levels of ash, rock fall and molten lava quickly reach the city centre.
It also looked at ways in which the city could prepare for and prevent devastating damage if a nearby volcano did erupt.
The study included a 3D map given to authorities in the region which showed the most dangerous areas in case of an eruption at Misti.
This was intended not only to plan for evacuation scenarios but also for future urban planning, as areas shown in red below should be avoided for any further development projects.
Misty last erupted in 1985, having lain dormant for 198 years prior to that.