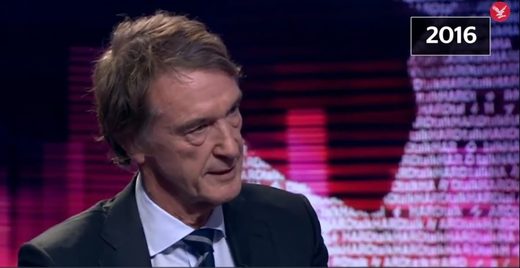 Billionaire said Britain would be 'perfectly successful' outside of the EU, but is now opting to leave
Sir Jim Ratcliffe, Britain's wealthiest man and a key Brexit backer, has decided to leave the UK and live in Monaco.
Despite his previous claims that the UK would be "perfectly successful" outside of the European Union (EU), the billionaire has chosen to leave the country of his birth and move to the principality,
whose residents do not pay income tax
, on the Mediterranean coast.
Sir Jim, founder and CEO of the chemicals giant Ineos,
was
named
as the richest man in Britain in this year's
Sunday Times
rich list, with an estimated fortune of £21bn.
He was knighted earlier this summer.
Before the 2016 referendum,
Sir Jim made it clear he supported Britain's exit from the bloc and claimed that the UK would prosper if it did.
"The Brits are perfectly capable of managing the Brits and don't need Brussels telling them how to manage things," he told
The Sunday Times.
"I just don't believe in the concept of a United States of Europe. It's not viable."
While Ineos will remain headquartered in London,
two of the company's other top executives, Andy Currie and John Reece, will join Sir Jim in Monaco
, according to
The Daily Telegraph
.
Motivations for their relocation have not been made clear, but
Sir Jim has
previously complained
about Britain's tax regime.
Ineos moved its headquarters to Switzerland in 2010 for four years to cut its corporation tax bill.
Monaco is also known for its advantageous tax regime.
Earlier this year the wealthy Conservative Party donor Lord Ashcroft was
criticised
for
urging "ambitious" British companies to relocate to Malta at the end of the Brexit process.
He said the island would be a "superb location for UK companies needing an EU base".
Labour MP Ian Murray said: "Lord Ashcroft is selling our country down the river.
"He backs a Brexit that will devastate jobs and the economy at home while at the same time trying to flog the benefits of low tax Malta to companies fleeing the mess he and his chums have made."
Last year documents released by Friends of the Earth
revealed
Ineos had lobbied the government to roll back environmental regulations
if the UK were to leave the EU.
An Ineos spokesperson told
The Independent
: "Ineos is committed to its business base in London and plans to remain headquartered in the UK for the foreseeable future."