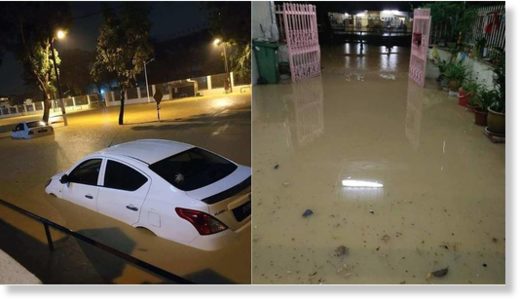 Clean-up operations were under way in Penang on Monday (Jul 30) after many areas were hit by flash floods.
A four-hour downpour that started at about 1.30am flooded the streets and homes. The situation was made worse by a high tide at 3.30am that prevented water from flowing to the sea, Bernama reported.
Photos circulating online showed cars submerged in water.
Six people from three families had to be rescued from their homes after being trapped by flood waters.
"We immediately helped them out and sent them to the temporary flood relief centre in Masjid Hashim Yahya," said an emergency services spokesperson quoted by the
New Straits Times.
The areas affected by flash floods included Taman Scotland, Jalan P Ramlee, Jalan Perak, Jalan Masjid Negeri, Bayan Baru, Dhoby Ghaut, Jalan Zoo and Jalan Dato Keramat.
Penang's city council said in a Facebook update at about 9.40am that clean-up operations were being carried out in areas including Jalan P Ramlee and in front of Abdullah Munshi school, and advised vehicles to give way to cleaning staff.
Meanwhile, transport operator Rapid Penang issued a travel notice informing commuters that there will be no bus services along certain roads, the New Straits Times reported.
A resident at Jalan P Ramlee, Mohd Ibrahim Yaakob, said he was awoken from sleep at about 2.15am by heavy rain and strong winds, and his family started to move the electrical appliances in the house to higher ground.
He added that it was normal for the housing estate to be flooded when there is more than an hour of heavy rain.
Another resident, 45-year-old Aminah Mohamed, said she did not have time to move her electrical appliances as by the time she woke up, water had entered the house.
"All my children did not go to school today because their uniforms and shoes are wet," she added.
In a statement on Monday, the chairman of the State Public Works, Utilities and Flood Mitigation Committee said that almost all the areas hit by the flash floods were in the Sungai Pinang catchment area.
Zairil Khir Johari added that the flooding issue can only be addressed by implementing the Sungai Pinang Flood Mitigation Project.
"Following discussion with the federal government recently, the Sungai Pinang flood mitigation project, which had been shelved for 20 years, will be implemented and it is now in the process of appointing the consultant for the design work," he said.
Source: Bernama/CNA/nc(mn/gs)