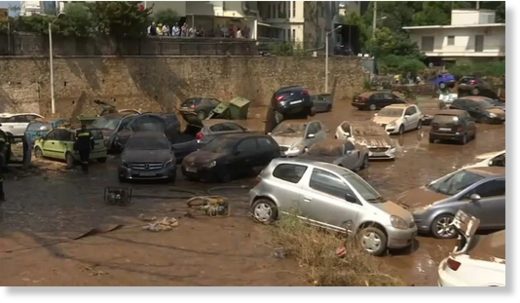 A flash flood has struck an Athens suburb just days after the devastating wildfire ripped through parts of Greece killed at least 80 people.
The Greek capital's fire department today received 140 calls for help to pump water from flooded homes and businesses.
No injuries have been reported, but dozens of cars were damaged as torrential rain hit.
Fire crews headed to a car park in the suburb of Maroussi to see if there were any people trapped in cars that were submerged in a muddy lake.
Authorities urged drivers to avoid the area and shut down a side road off the main highway leading north out of Athens.
Bulgaria had yesterday warned neighbours Greece and Turkey that they could face flooding after heavy rain.
The floods came as fire crews battled wildfires to the north-east of Athens, which killed at least 80 people including an Irish honeymooner
Brian O'Callaghan-Westropp was confirmed dead by his family on Wednesday after becoming separated from his new bride Zoe during the fire.
Some 180 people were injured in the blaze.