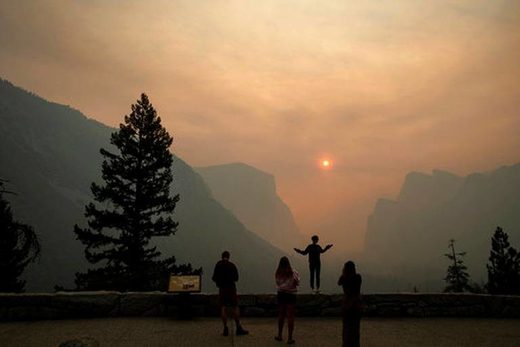 The first time
Yosemite National Park
closed because of wildfires, the iconic tourist attraction was celebrating its 100th birthday in 1990 and three major blazes shut down access for nine days.
On Wednesday, authorities shut down the popular Yosemite Valley portion of the park and told visitors to get out because of the unpredictable and difficult
Ferguson Fire
that has been chewing up forest and grasslands since it erupted 25 miles west of the park on July 13.
The closure is expected to last at least through Sunday, with fire officials saying they are making a concerted effort to stop the fire's advance through extremely steep, rugged terrain that makes battling the 60-square-mile fire particularly difficult.
"The terrain is very, very nasty in this area, both on the north and the south," U.S. Forest Service spokesman Jim Mackensen said Wednesday as new evacuations were being ordered in Mariposa County. "Some of the fuel beds in the south have no recorded fire history going back 150 years.
"It's just choked with trees and dead trees and brush that have been accumulating over the years."
Those factors, coupled with scorching heat that has sucked any semblance of moisture from the air, has made battling the Ferguson blaze extremely difficult - and dangerous - for the more than 3,400 fire personnel who have been dispatched to it.
"We have triple-digit, record-breaking temperatures this week, so there is no moisture in the air during the day," said California Department of Forestry and Fire Protection's Scott McLean. "And there's no moisture during the night, so the fires are burning as aggressively at night as they do during the day.
"With these draws and drainages and canyons, when we say it creates its own weather, it does. It's very unpredictable because during the day the heat is rising and the wind is going to go up these canyons. At night, the air is heavier and it's going to come back down those drainages."
Already, the fire has injured seven firefighters and killed one, 36-year-old Cal Fire heavy equipment operator
Braden Varney
, who died when his bulldozer flipped and rolled hundreds of feet down a hillside just the second day into the firefight.
The cause of Varney's death remains under investigation, but Cal Fire says the difficult terrain of the area certainly contributed.
"The ground is just unforgiving," McLean said. "It's unstable, it's extremely steep, very rugged. And there's no road matrix, it's very inaccessible for making our way into the fires."
Heavy smoke has made air quality extremely unhealthy for park visitors and helped prompt Wednesday's closure of Yosemite Valley. It also has hindered the firefight.
"Aircraft are flying when they can, and by that I mean when they can see," McLean said.
So far, firefighters have been encouraged by the progress they've made. By Wednesday morning, officials reported winds that were blowing from the southwest had shifted to come in from the north.
"So the wind is pushing the fire back on itself and slowed its intensity quite a bit," Mackensen said. "We can start putting firefighters on the line aggressively, so we're taking advantage of that opportunity."
The fire was burning Wednesday within two or three miles of the footprint of the
massive Rim Fire
that burned 257,000 acres in August 2013 and is the largest fire to have burned in the Sierra Nevada.
The Rim Fire burned east of Sonora, and the Ferguson Fire is burning directly south of that area. Fire officials hope to halt the Ferguson Fire's advance before getting to the area burned by the Rim Fire. Even if the Ferguson Fire burns into that area, no tree stands or forest are there to consume because of the 2013 devastation, but plenty of grass and brush exist.
The Ferguson Fire was 25 percent contained as of Wednesday morning, an achievement that during normal fire years might signal firefighters are well on their way to halting its advance.
But 2018 already is shaping up as one of
California's worst fire years
, with high temperatures, drought-stricken forests and millions of dead trees fueling hundreds of fires.
FERGUSON FIRE
So far this year, Cal Fire has responded to roughly 3,400 fires, hundreds more than the average in past years, and 240,000 acres have burned so far, McLean said, compared to 130,000 for the same period last year. Those figures don't include Forest Service areas like where the Ferguson Fire is burning.
"We're looking at stats right now that are a pretty solid indicator of what we're trying to deal with," McLean said, adding that complacency by area residents is a danger fire officials have urgently been warning against.
Because roads in the area tend to be narrow and winding in many spots, officials are ordering evacuations or issuing evacuation warnings with the thought that people will need more time to flee than they would from more urban areas.
"I'm not here to scare people, but I need to make sure they understand that if an evacuation comes into effect, honor it," McLean said.
McLean noted that progress in containing the perimeter of a blaze does not mean the danger has passed. He said at one point firefighters in Lake County had the Pawnee Fire corralled this summer at 73 percent containment.
"OK, we got this," McLean figured. "The next day it blew through the line and burned another 150 to 200 acres. That's just the dynamics that we're dealing with. All these fires are throwing spot fires, and right now any ember is going to start a fire."