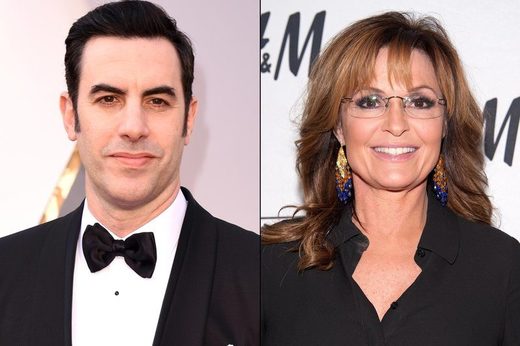 Sarah Palin slammed Sacha Baron Cohen and Showtime Tuesday on
Facebook
for
their new prank series
, claiming the comedian duped her and her daughter with a humiliating interview by posing as a disabled veteran.
The former vice presidential candidate unloaded on Baron Cohen, saying she was contacted via a speakers bureau to participate in a "legit Showtime historical documentary."
But in reality, she says the interview was for a segment on Baron Cohen's upcoming
Who Is America?
which debuts Sunday, July 15 at midnight on Showtime.
Palin says she and one of her daughters were met by a man she assumes was Baron Cohen, who was heavily disguised as a bogus U.S. military veteran and in a wheelchair.
"I sat through a long 'interview' full of Hollywoodism's [sic] disrespect and sarcasm - but finally had enough and literally, physically removed my mic and walked out," Palin wrote. "The disrespect of our US military and middle-class Americans via Cohen's foreign commentaries under the guise of interview questions was perverse ... Mock politicians and innocent public personalities all you want, if that lets you sleep at night, but HOW DARE YOU mock those who have fought and served our country. Truly sick."
Palin also lashed out at Showtime and parent company CBS Corp. for airing the show, and called on the company to donate its "proceeds" to charity. "Here is my challenge, shallow Sacha boy: go ahead - air the footage. Experience tells us it will be heavily edited, not pretty, and intended to humiliate. The challenge is to Cohen, CBS and Showtime: donate all proceeds to a charitable group that actually respects and supports American Vets." (Of course, in the case of CBS and Showtime, a premium cable network doesn't have "proceeds" from its shows per se - since there are no ads, only monthly subscribers).

Comment: Nitpicking.


Palin further claimed the production team deliberately dropped her and her daughter (she doesn't specify which one) at the wrong airport "knowing we'd miss all flights back home to Alaska."
Added Palin: "By the way, my daughter thinks you're a piece of ****, Sacha."
Showtime's president and CEO praised Baron Cohen as a "comedic genius" during the show's series announcement Monday. A representative for the network had no comment on Palin's claims.
Official show description: "In the works over the past year, the seven-episode series will explore the diverse individuals, from the infamous to the unknown across the political and cultural spectrum, who populate our unique nation."
Previously, a promo for the show revealed that former president Dick Cheney was also duped:
Before Palin's post, Drudge Report
chief Matt Drudge
claimed that Baron Cohen's list of prank victims includes some liberal targets as well. "Lots of tricks played," Drudge wrote. "Both Republicans and Democrats are getting caught up in the madness. Sacha has finked Cheney, Palin, Howard Dean, Alberto Gonzales, Bernie, Trent Lott, Patraeus, Ted Koppel, and more... BEWARE!"