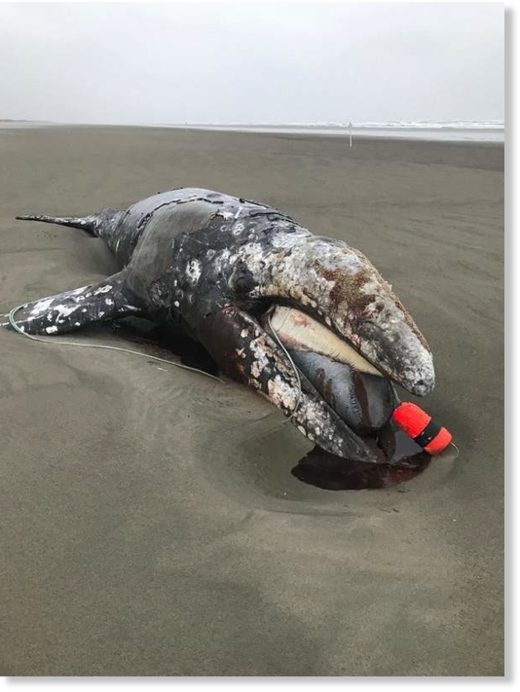 Struck by a ship, entangled in crab pots, stillborn, emaciated: It's been a tough three months for whales.
Since early April, whales — mostly grays and humpbacks — have been entangled or stranded on the beach in Oregon and Washington state in numbers not seen in nearly two decades, with 16 cases of large whale strandings so far, compiled by the National Oceanic and Atmospheric Administration's Office of Protected Resources.

That is the most strandings in Washington state since 1999-2000
, when there was a big spike in dead whales all along the West Coast. This season, as then, scientists have counted many emaciated calves among the dead in Washington.
Among the lost so far this season: a 31-foot-long yearling gray whale that was hit by a ship and washed ashore, dying hours later. A dead orca calf also recently washed up in Ocean Shores.
Jessie Huggins, of the Cascade Research Collective in Olympia, did a full necropsy on the orca. She said genetic analysis will determine within a few weeks if the baby was a member of the southern resident orca pods, critically endangered and so far with no successful pregnancies for the past three years.
The infant calf appears to have died from a trauma during birth, Huggins said.
As for the gray whale, it probably was healthy before it was struck by a ship, likely about a month ago judging by the amount of healing that had occurred at the wound, where four vertebrae in its back were shattered, said Huggins, who also did a necropsy of that animal. But the whale after it was struck was not able to swim normally to feed and was badly emaciated when it washed ashore.
"I'm glad it was quick at that point, for the animal's sake," she said.
More deaths for 'grays'
"This is definitely a high mortality year for grays," said John Calambokidis, of the Cascadia Research Collective. But it is nothing like the losses in 1999-2000, when the population appeared to reach carrying capacity and 651 grays died from Mexico to Alaska.
The cause of the gray whales' troubles this year is not yet understood, Calambokidis said. "The picture is still emerging."
David Weller, who runs the gray-whale monitoring program for NOAA out of its Southwest Fisheries Science Center in La Jolla, California, said long-term data collected by the agency shows the big picture for grays is actually good.
"What is going on this year is not overly alarming to me," Weller said. "It is of interest; we are keeping an eye on it. But based on what we have seen gray whales go through in the past, the ups and downs and changes over time, they do just carry on, and the population continues to grow."
The agency's long-term data over the past 25 years has also pointed to a correlation in gray-whale calf survival and the extent of sea ice in the Arctic. "These guys give us a way to peer into the arctic," Weller said. "They are a sentinel species."
If the pregnant females can't get at their food source in the Arctic, it shows in the decline of birthrates the following year.
Source: Seattle Times