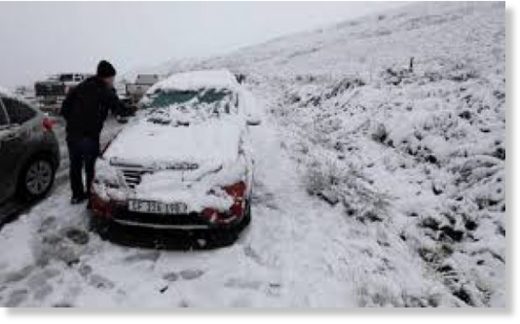 Globull warming in South Africa. Much of SA covered in snow. Gydo, Theronsberg and Matroosberg mountain passes closed.
3 July 2018 - Official snow reporter in the Western Cape says
it's the most impressive snowfall since he began reporting.
Despite heavy snowfall in parts of the Western Cape, several mountain passes that were closed on Monday have now been opened. However, the Swartberg pass near Prince Albert in the Klein Karoo remains closed.
Heavy snowfall was also reported on the Lootsberg pass between Middelburg and Graaff-Reinet in the Eastern Cape on Monday.
In addition, snowfall has been reported in parts of the Northern Cape and the Free State.
Biggest snowfall in Ceres, South Africa
The South African Weather Service says the icy weather is expected to continue throughout Tuesday. Very cold morning conditions are expected across the country and frosty conditions are expected across the central interior as the strong cold front approaches.
Bethlehem in the Free State was expected to experience the coldest morning temperature,
dropping to a low of -8°C.
Maximum temperatures remain low in parts of the Eastern Cape and the Free State, as well as the central Karoo.
Heavy snow in the Western Cape saw South Africans turn up in numbers to build snow creatures, have snowball fights and even snowboard.
According to the media, snow has not fallen in the vicinity of the Cedar Mountains for 10 years.
Thanks to Argiris Diamantis and Alexey Parkhomenko for
these
links
and
videos
"Such weather events are very rare," says Alexey.