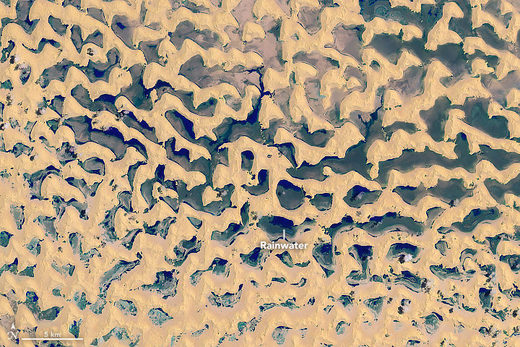 One of the driest places on earth is looking a bit wet these days.
Tropical Cyclone Mekunu rolled over the country of Oman back in May, bringing huge downpours of rain - about 11 inches - to the capital city of Salalah. The nearby desert of
Rub' al-Khali
, the world's largest sand desert, also received significant precipitation.
So much so that NASA's Operational Land Imager
captured images of hundreds of tiny lakes
that formed in the ripples of the sand dunes, in an area known as the Empty Quarter. The satellite took the images three days after the storm.
A cyclone like Mekunu usually happens about once every two years, but it's rare for the country of Oman to bear a huge brunt of rain and wind like it did in May.
This type of phenomenon has not occurred in the region for 20 years
,
according to Al Arabiya
.
Locals can take advantage of the freak rainfall, which will allow vegetation to sprout up and help feed their livestock.
Earther reports
the lakes will also gain a bit of tourist attention as well.
"The people of the Empty Quarter sensed a good vibe when the rainfall happened. Camels began moving towards the areas filled with waters," Ali Al- Hatish, a regular visitor of the desert,
told Al Arabiya
. "The land will need 30 days to sprout their summer plants. and people expect to feed their camels on them for the coming two years."