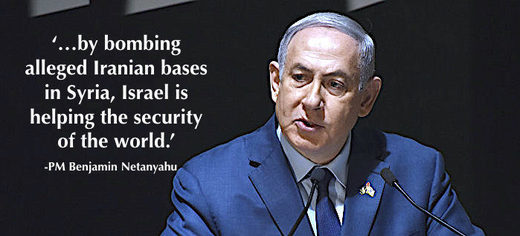 The Israeli Air Force has conducted several airstrikes against Syrian military bases over the course of this year
under the pretext that they shelter Iranian troops.
Tel Aviv has claimed that Tehran wants to attack Israel from the Arab republic's territory.
Israeli Prime Minister Benjamin Netanyahu said on June 14 that Iran had brought in around 80,000 Shiite fighters from Pakistan, Afghanistan and other countries to Syria in a bid to "convert" Sunni-dominated Syria.
The PM also announced that the Israeli Air Force has conducted airstrikes against these fighters.
He justified Israel's attacks
on Syrian territory by claiming that
without these measures Tehran's actions would lead to a new civil war in the country and mass exodus of Sunnis to Europe.
"That [attempt to convert Syria to be Shiite] is a recipe for a re-inflammation of another civil war [...] and the sparks of that could be millions more that go into Europe and so on [...]That would cause endless upheaval and terrorism in many, many countries," Netanyahu said.
He promised to thwart Iran's plans and claimed that by bombing its alleged bases in Syria Israel is helping "the security of the world."
Syria is mostly populated by Sunnis, and its president comes from the Alawite minority, often considered an off-shoot of Shiite Islam.
The Israeli Air Force has regularly violated Syrian airspace throughout the course of the Syrian civil war. The latest such incident took place on May 10, when Israeli F-35s reportedly fired over 100 surface-to-air missiles against targets in Syria.
Israel has claimed the strikes were directed not against Arab republic, but against Iranian troops allegedly deployed there with a mission to attack Israel.
Tehran and Damascus deny these allegations, slamming Israeli aggression.