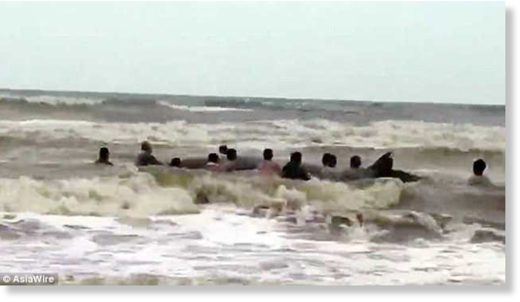 Dramatic footage has emerged showing a group of Chinese villagers joining forces in a bid to save an adult whale after it got washed ashore yesterday.
A dozen men were seen standing in choppy, waist-deep sea as they tried to push the massive mammal back to deep waters.
Despite their combined rescue effort, the four-tonne Bryde's whale got beached again last night and died on the beach.
The 39-foot-long Bryde's whale was first found stranded in the bay of Beizai in Leizhou, Guangdong Province on the morning of June 13, according to a local report on
Southern Metropolitan Post.
Experts from Guangdong Ocean University told the newspaper that the whale was a Bryde's whale.
Nearby residents and beach-goers joined forces to rescue the whale as they were filmed pushing the mammal to the waters against the waves.
Police were also called to the scene to assist and monitor the public's safety.
The public spent hours to free the whale, but it failed to swim out of the shallow waters. It got washed ashore again later at night after three rescue attempts from the crowds.
The adult Bryde's whale was confirmed dead at 9pm.
The whale's corpse remained lying on the beach until marine experts arrived today, stated the report.
Police have cordoned off the area around the whale to keep members of public away from the dead mammal.
An autopsy of the dead whale is to be carried out to determine the cause of its death.
It remains sure what the authority would do to the whale's remains.