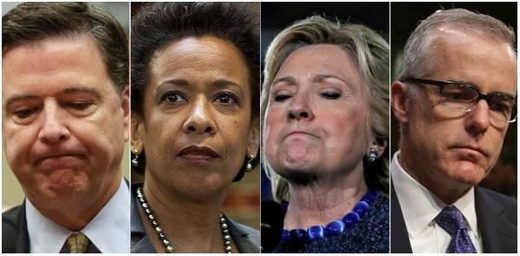 U.S. Senator Ron Johnson, R-Wisc., scolded the FBI on Friday for heavily
redacting documents related to the tarmac meeting between former Attorney General Loretta Lynch and former President Bill Clinton
.
He also identified a
possible conflict of interest that FBI employees face when they review and redact potentially incriminating documents
.
As chairman of the Senate Homeland Security and Governmental Affairs Committee,
Johnson had sent a letter
to the FBI on May 11 requesting information about its process for producing documents to Congress, the names of the employees who review and redact documents, and the process by which the FBI prevents conflicts of interest.
He also asked the FBI to distinguish between Freedom of Information Act requests, which are subject to statutory restrictions, and constitutional Congressional oversight, which is not subject to the same restrictions.
Johnson said he did not receive a satisfactory response to the May 11 letter, so he met with members of the Justice Department and the FBI.
He sent a follow-up letter to FBI Director Christopher Wray on June 8.
The Justice Department explained "limited reasons for redactions" and invited the committee staff to view less-redacted documents.
The limited redactions still did not meet Johnson's standards.
"These redactions included the names and what appear to be initials of Justice Department or FBI employees,"
Johnson said in the letter.
"Redacting the identities of these employees prevents the Committee from assessing the need to request additional documents relating to these employees or requesting interviews with these employees."
The unredacted documents revealed that
the FBI concealed the names of several employees in a series of text messages between agents Peter Strzok and Lisa Page
.
"The FBI and the Justice Department have not explained the basis for redactions to these text messages, or any other document produced to date," Johnson said.
In some text messages, FBI agents speak condescendingly of Congress's oversight role, with one agent writing, "Congress. Too hard to write," and another responding, "Got it. F them."
Judicial Watch requested documents about the Clinton-Lynch tarmac meeting, too.
The FBI told Judicial Watch that it did not have any documents,
until reversing its stance and finding more than 40 pages of documents related to the meeting
,
according to the organization's president, Tom Fitton.
One email from FBI Section Chief Rachel Rojas tells an employee to "stay away" from discussing the Clinton-Lynch meeting.
"These emails are simply astonishing.
No wonder the FBI hid them from the court and Judicial Watch.
They show anti-Trump, pro-Clinton FBI Agent Peter Strzok admitting the decision not to prosecute the Clinton email issue was made back in April 2016 - long before Hillary Clinton was interviewed," Fitton wrote.
Johnson, the Senate Homeland Security and Governmental Affairs Committee, and Judicial Watch all received inadequate or false information from the FBI in regard to the Clinton-Lynch tarmac meeting.
When information was given, it was produced slowly and with substantial redactions.
Johnson requested a response from Wray by June 22.