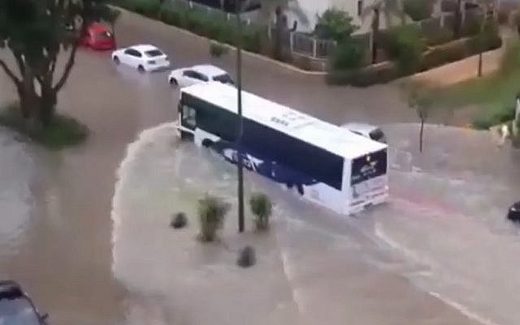 Record-breaking precipitation recorded in western Negev, overwhelming storm drains in some towns
Residents of Sderot and Ashkelon on Wednesday morning found their vehicles submerged in over a meter of water, after storm drains in the southern cities apparently overflowed during a rare June downpour.
Israel was hit with heavy rains this week, causing power outages and severe flooding throughout the country, a highly unusual occurrence for mid-June.
Kibbutz Dorot in the south of the country recorded an all-time high rainfall for the month of June. The meteorological service measured 64 millimeters of rainfall in the Western Negev on Tuesday morning, topping the previous record in Israel of 50 millimeters of rainfall in a day during the month of June.
Sderot resident Danny Hazan told the Ynet news site that the overnight deluge overwhelmed the city's water infrastructure, having taken local residents by surprise.
"The drainage system has totally collapsed. It's been raining all morning and hasn't stopped," he said. "People weren't ready for it, lots of people had already set up pools in their yards for the summer - and all of the sudden it starts raining."
Heavy rainfall Tuesday night through Wednesday was also reported along the coast and in northern Israel. The inclement weather caused power outages for several Galilee towns overnight.
The rains are expected to continue through Thursday, and authorities are warning of flash floods in southern Israel's dry desert valleys.
Though Israel's rainy season typically ends in March, this year has already experienced several unseasonable heavy rainstorms later in the year.
In April, 10 high school seniors were killed in a flash flood during a hike along the to the Tzafit riverbed, near the Dead Sea. According to reports, the principal of the Bnei Zion Military Academy did not heed the advice of meteorologists or an Air Force weather forecaster who warned against taking a trip to a flash-flood prone area.
Police
are investigating
whether school officials lied to participants about the safety of the trail and their coordination with relevant authorities.