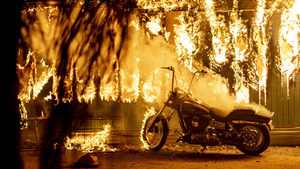 The Woolsey Fire in Malibu, California, November 10, 2018
He who passively accepts evil is as much involved in it as he who helps to perpetrate it. He who accepts evil without protesting against it is really cooperating with it.
- Martin Luther King, Jr.
Recent Comments
"The only regime change really needed should be made in Washington" Is/ra--el would be on top of my to do list.
---
Cool! My money's on Putin, the real deal. Pence and Obama looked ridiculous. Regular reader here but caught this via MoA [Link]
---
Shifted on its axis ? But still no night sky parallax after all these 100's of 1000's of years of eh, "axis shifting". Waste of time. Perhaps...
---
James Jeffrey and John Bolton are members of the Rockefeller CFR, flagship of the globalist "deep state". See lists in the CFR annual report.
---
Come to think of it, when Ceasar went to battle, he used CAPITALS, so maybe GET USED TO IT! And to show empathy with the visually disabled.