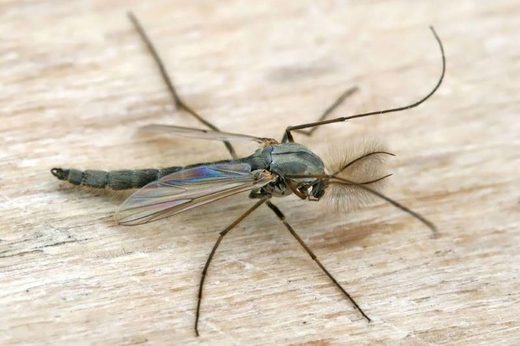 In what has become an annual ritual in Northeast Ohio in June, the Lake Erie midges have descended upon the area, traveling in swarms large enough to show up on weather radars in Cleveland. The tiny mosquito-like insects are more of a nuisance than a danger, but area meteorologists and residents had plenty to say about them nonetheless.
Jason Nicholas, chief meteorologist at Cleveland 19 News, tweeted out an image of the massive swarm over Cleveland:
Michael Estime, a meteorologist at WKYC TV, tweeted that his station was tracking the midges:
Homa Bash, a reporter at WEWS News in Cleveland, complained about the bugs flying into her mouth while she was trying to record a segment:
Reporter Dan DeRoos from Cleveland 19 shared a picture of a huge cloud of midges floating over the city.
JD Rudd from WEWS-TV showed what the swarm looked like in motion on the weather radar.
Area residents shared their own pictures of the invasion:
Progressive Field was hit especially hard by the midges, no doubt because of their attraction to bright lights:
Many fans recalled the 2007 ALDS series between the Indians and the Yankees, when Yankees pitcher Joba Chamberlain called coaches and trainers to the mound to help him deal with the pests.
As horrifying as that may seem, Indians pitcher Fausto Carmona (
aka
Roberto Hernandez) was unphased by the midge swarm buzzing around his head, striking out Alex Rodriguez in the top of the 9th to win Game 2 of the series. The Indians would go on to win the ALDS that year.
Dr. Gavin Svenson, assistant director of science, curator and head of Invertebrate Zoology for the
Cleveland Museum of Natural History,
shared a few facts about the midges with Cleveland 19:
Midges are small flies related to mosquitoes and crane flies. Thankfully they don't bite.
They spend most of their lives as worm-like larvae on the bottom of [Lake Erie].
They live as adults for a short time and gather in large swarms to find a mate and reproduce.
Adults are thought to not feed, but evidence suggests that they will eat nectar and pollen to extend their lives.
They are harmless to humans and do not carry any diseases.
A healthy population of midges means plenty of food for the animals that depend on insects as food.
Luckily, the lifespan of the midges coming off the lake is only around ten days. But in the meantime, if you're in the area, keep your mouth closed and take comfort in the fact that the little buggers are essentially harmless.
Paula Bolyard is the supervising editor at PJ Media. She is co-author of the eBook, Homeschooling: Fighting for My Children's Future.