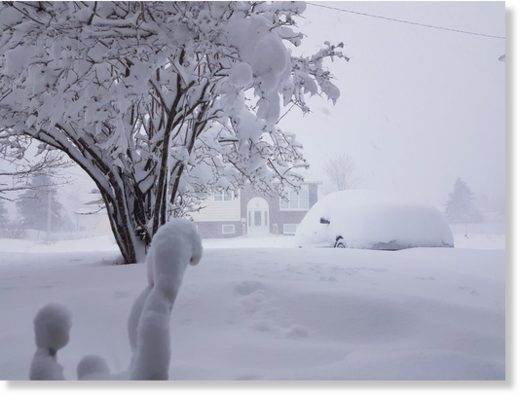 Although not completely unheard of, scenes like THIS are no doubt, tough on the psyche. Especially during the last full week of May. AND to add insult to injury, another round of snow is possible for parts of Newfoundland on Friday. More on that below.
A cold front that crossed through the region changed widespread rainfall over to snow through central Newfoundland Wednesday night, steadily falling and accumulating through the overnight hours. Several photos taken in the Gander area
show scenes of green grass QUICKLY replaced by a foot of snow in less than 24 hours.
A handful of snowfall warnings remained in place early Thursday with an additional 5-10 cm of snow possible through the day before tapering to flurries. Strong north to northwesterly winds gusting to 80 km/h will also persist for much of the day, which could lead to reduced visibilities, especially over exposed areas. Numerous schools were closed across central and western parts of the province Thursday morning as a result of the deteriorating conditions.
All this talk of snow shovels and dangerous travel in Newfoundland while temperatures spike to summer values in Ontario and conditions get uncomfortably HOT in the Prairies this week. Welcome to spring in Canada.
WE'RE SORRY, THERE'S STILL MORE SNOW TO COME
"Having angered the weather gods in some serious way, another round of snow/ mixing is possible for Newfoundland on Friday," says Weather Network meteorologist Brett Soderholm.
It's not part of the same system that's brought this latest round of snow, but instead another one that could spread periods of snow across southwestern parts of the province during the pre-dawn hours on Friday.
"That's as moisture interacts with the cold air locked over the island," Soderholm says. "Accumulations are not expected to be significant and will not be more than a few centimetres over remote locations"
Rain will be widespread throughout the day as well, though by Friday night as temperatures drop once again, a change-over to mixing and some wet snow is possible for Gander and its vicinity along the Trans-Canada Highway west of Gander.
"The Avalon will stay as rain through with generally 5-15 mm expected there," Soderholm adds.
WARNING: THESE PHOTOS WILL MAKE YOU SHIVER