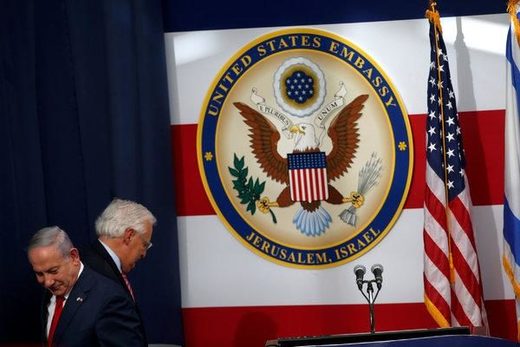 A night after the
dedication of the new United States Embassy
in Jerusalem, Prime Minister Benjamin Netanyahu of Israel convened American evangelicals to plan their next steps.
In a conference room off his office,
Mr. Netanyahu thanked the small circle of prominent pastors and activists on Tuesday for pressing President Trump to open the embassy
, breaking with decades of American policy that Jerusalem's status should be decided in peace talks.
Which embassy would be next? Mr. Netanyahu wanted to know, running through a list of other countries with strong evangelical churches. Guatemala, Paraguay and Honduras had already followed the United States in announcing their intention to move their embassies to Jerusalem from Tel Aviv, but what about Brazil, India or even China?
"The prime minister was very excited," recalled Mario Bramnick, the Cuban-American pastor of a Pentecostal church near Miami and a Trump supporter who attended the meeting.
The culmination of
decades of lobbying
, the dedication of the embassy in Jerusalem this past week doubled as the most public recognition yet of the growing importance the Netanyahu government now assigns to its conservative Christian allies,
even if some have been accused of making anti-Semitic statements
.
While Israel has long depended on the support of the Jewish diaspora, the Netanyahu government has made a historic and strategic shift, relying on the much larger base of evangelical Christians, even at the risk of turning off American Jews who may be troubled by some evangelicals' denigration of their faith.
The paradox is well known: The beliefs of many evangelical Christians that Israel is special to God - and, for some, a marker in apocalyptic prophecies - lead many to hawkish support of the Jewish state
while they simultaneously insist that salvation awaits only those who accept Jesus as their savior
.
Mr. Netanyahu's calculation mirrors that of his strong ally in Washington, where Mr. Trump
has tapped a wellspring of evangelical support
. Many of his top evangelical advisers attended the embassy dedication as well as private meetings with Mr. Netanyahu last week.
But liberal Israelis warn that the increasingly close ties between the Israeli right and the Christian right are accelerating a polarization that is turning support for Israel into a partisan question in Washington;
not one Democratic lawmaker attended the embassy opening
.
Liberal Jews also complain of a double standard, noting that Mr. Netanyahu's right-wing government is far more vigilant about allegations of bigotry on the political left than among its conservative backers.
"There are a heck of a lot more evangelical voters than there are Jews," noted Rabbi David Sandmel, director of Interreligious Engagement for the Anti-Defamation League. "So the Israeli government may say that for the sake of that support we are not going to put as much emphasis on this or that statement we may find problematic."
Those trade-offs were on vivid display last week when Robert Jeffress, an early and vocal Trump supporter and the pastor of a Southern Baptist megachurch in Dallas, delivered an opening prayer at the embassy dedication.
Mr. Jeffress
has warned
that
"you can't be saved by being a Jew," and that Judaism, Islam, Hinduism and Mormonism lead followers to an eternity in hell
.
In his opening prayer on Monday, he alluded to biblical prophecies about a Second Coming, referring to the founding of the modern state of Israel 70 years ago as a "regathering" of God's people. Then he closed his prayer "in the name and the spirit of the Prince of Peace, Jesus our Lord," a Christian flourish that troubled even some of the most active Jewish organizers of the evangelical alliance.
"You have this evangelical who ends his prayer
knowing full well that it's inappropriate, that the Jews there are going to be upset that he did that
, and not able to answer 'amen' to his prayer," said Rabbi Yechiel Eckstein, founder of the International Fellowship of Christians and Jews. Such an explicitly Christian prayer, he warned, revived old fears of many Jews that evangelical support for Israel is "a way to sweeten us up and get us soft to get Jesus through the back door."
Rabbi Sandmel of the Anti-Defamation League said Mr. Jeffress had often made statements the group deemed "unacceptable," noting that throughout history assertions such as his admonitions that Jews were damned to hell had often contributed to anti-Semitic violence.
It was a "gut punch for most American Jews," the liberal Israeli newspaper
Haaretz
wrote in an editorial published Friday. The editorial charged that the evangelical alliance "erodes Israel's standing in its traditional power centers - above all U.S. Jews, who view evangelicals as a concrete threat to their values" and risked alienating "supporters it may need as soon as November, in the event the Democrats win control of the U.S. Senate or the House of Representatives."
Mr. Netanyahu was seated in the front row next to Jared Kushner, President Trump's son-in-law and Middle East adviser, and both clapped politely before and after Mr. Jeffress delivered his prayer.
The Rev. John C. Hagee, a televangelist who gave the closing benediction, has said the Holocaust happened
because God's "top priority for the Jewish people is to get them to come back to the land of Israel,"
a prelude to the Second Coming. In an email, Mr. Hagee said his comments, in a sermon about the problem of evil in a world of God's creation, were taken out of context, and he has apologized for any offense.
David M. Friedman, the American ambassador to Israel who presided over the embassy dedication, said evangelical Christians "support Israel with much greater fervor and devotion than many in the Jewish community."
"You're running a country, you need friends, you need alliances, you need to protect your people," he said in an interview.
Many Israelis, especially on the right, shrug off the beliefs of their Christian allies as a theoretical matter. When the Messiah arrives, runs an old joke, we will ask him whether the visit is his first or his second.
Mr. Netanyahu has had rocky relations with liberal American Jews, partly over what they see as his lack of interest in resuming peace talks with the Palestinians, but even more over
his acquiescence to Israel's ultra-Orthodox rabbis
on contentious debates with Reform and Conservative leaders involving conversions to Judaism and prayer at the Western Wall. The alliance with evangelicals may free him of the need to appease liberal Jews.
"He believes they're going to assimilate and won't be interested in their Jewish identity," Anshel Pfeffer, author of a biography of Mr. Netanyahu, said in an interview. "He sees the Orthodox minority of American Jews, much more in line with his right-wing thinking, becoming the majority of American Jews in a generation or two.
And he sees the Republicans and the Christian evangelicals as being the real base of support for Israel in the U.S., rather than American Jews
."
Public opinion polls show support for the Israeli government growing on the American right as criticism builds on the left. Demographics show Jews declining as a percentage of the American voters, with non-Orthodox Jews in the steepest decline.
Ron Dermer, the Israeli ambassador to Washington and a regular participant in events there to rally evangelical support, said that "devout Christians" were now the "backbone" of the United States support for Israel. "It's got to be
a solid quarter of the population, and that is maybe 10, 15, 20 times the Jewish population
," he said in an interview.
But Mr. Dermer insisted that Israel was hardly writing off Democrats or liberal American Jews. "You could say there's a shift here or there, but obviously for us, it's important that we have strong support that's very broad and bipartisan," he said. "You can't fly a plane with one wing."
Worldwide, the proportion is even more staggering, with the number of evangelicals
estimated at 600 million
, led by the boom in traditionally Catholic Latin American countries.
Israeli liberals say Mr. Netanyahu's embrace of American evangelicals is
not the only instance when his vigilance against anti-Semitism has appeared to be selective
. Last fall, for example, the right-leaning government of Hungary launched a multimillion-dollar advertising campaign attacking the liberal financier and Holocaust-survivor George Soros for his support of open immigration, including billboards that attracted anti-Semitic graffiti.
The Israeli ambassador to Hungary denounced the advertisements with an allusion to the Holocaust, saying the campaign "evokes sad memories but also sows hatred and fear."
But then Mr. Netanyahu's government issued a "clarification," saying that the ambassador had only meant to disavow anti-Semitism in general. "In no way was the statement meant to delegitimize criticism of George Soros, who continuously undermines Israel's democratically elected governments," the government's statement said.
Still, Rabbi Sandmel of the Anti-Defamation League argued that if evangelical Christians sometimes sounded chauvinistic about their faith, some might contend that their support for the state of Israel helped offset such views. Left-leaning critics who complain about a conspiratorial "Jewish lobby," on the other hand, seldom counterbalance those views with support for Israel.
Mr. Netanyahu's relationship with conservative Christians in America is much closer than his ties to almost any other constituency abroad. Rabbi Eckstein, of the International Fellowship of Christians and Jews, said Mr. Netanyahu was far more popular with evangelicals than any previous Israeli prime minister.
"He can speak their language," Rabbi Eckstein said. "He is comfortable with them. He has reciprocated with that kind of love affair."
Ambassador Friedman said he had invited Mr. Jeffress and Mr. Hagee because "they're two of the most followed leaders of the evangelical community, and I wanted to honor the community for having been so constructive in helping to move this along."
Mr. Netanyahu, for his part, invited more than a hundred high-profile visitors to the Foreign Ministry for a celebration on the eve of the embassy dedication and publicly thanked Mr. Hagee for his longtime support for Israel.
"I've known Prime Minister Netanyahu for many years and am proud to call him a friend," Mr. Hagee said in an email interview, calling him "in many ways the Churchill of our time."
Elie Pieprz, an Orthodox Jew who represents an organization of Jewish settlements in the West Bank, said,
"If there is one person who has helped Israel and the Jews of the world raise money and build political support, that is Pastor Hagee."
Mr. Jeffress called it "ridiculous" to equate common Christian beliefs about salvation with anti-Semitism. "The fact that Christians believe salvation is through faith in Christ alone is neither bigoted or newsworthy," he said in an interview. "The Jewish people and Israel understand that, and they count evangelicals as their most supportive friends."
He said he had a "great" relationship with the president's daughter Ivanka and her husband, Mr. Kushner, who are Orthodox Jews. "I count them as friends, and I know they count me as a friend," he said.
"It's no secret the left absolutely hates this move to recognize Jerusalem as the capital, and they are going to attack it from any angle they can," he added. "This is part of a bigger attempt to discredit President Trump, and it is having no effect whatsoever."