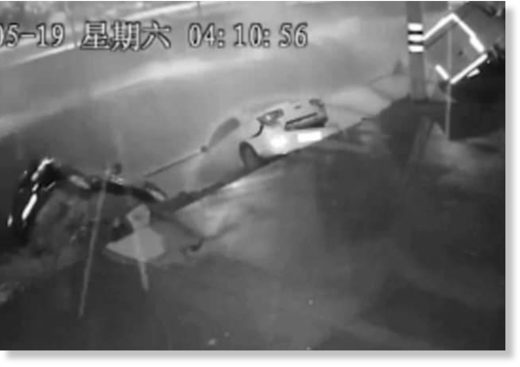 A large sinkhole has swallowed two cars and a minivan at a flood prevention works in east China.
Nearby CCTV footage captured a construction site collapsed and opened up a 10-foot-deep hole before dragging the vehicles into it.
There were no casualties reported in this incident. The constructions are now put on halt as local government ordered the company to repair the damaged pipes.
According to
China Central Television
, the sinkhole took place at Lin'an district in Hangzhou, Zhejiang Province at early hours on May 20.
Three vehicles including a black SUV, a white car and a white minivan, fell into a hole where a massive drainage pipe to be installed in a trench.
Nearby residents told
Tianqi. com
that there were drainage pipe installation works being carried out at the site.
Some believed the frequent rain around the region has soften the soil around the construction site and caused the road to collapse.
Lin'an government said over-digging the trench was the cause of the incident.
The company has to compensate the car owners for the damage and carry out repairing road works.
Luckily there were no injuries reported but it is expected that the company will receive a fine for the incident.