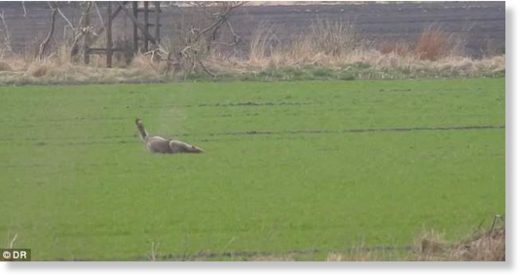 This is the heartbreaking moment one of the first wolves to roam wild in Denmark for 200 years was shot dead.
Footage captured by two naturalists shows the animal, reported to be a female, being hit with a single shot fired from a nearby car before dropping to the ground.

If the animal is verified as female it could spell the end to wolves in Denmark for the second time, since only one female has been confirmed to be living there.
The wolf's remains have been sent for forensic testing, with the results expected later this month.
A 66-year-old man has been arrested on a charge of breaching hunting laws and has pleaded not guilty, Danish media reports.
The wolf was killed on farmland in Ulfborg, in the country's west, which is owned by Steffen Troldtoft, a former parliamentary candidate with the Liberal Alliance, website
DR
said.
It is thought a friend of Troldtoft fired the fatal shot, DR adds, though he was present when the killing took place.
Additional video shows a man that DR claims is Troldtoft chasing after the wolf on his tractor shortly before it was killed. He has refused to comment.
He is a well-known advocate for hunting wolves,
which are currently a protected species in Denmark,
DR added.
The Liberal Alliance is part of country's triple coalition government.
The video was recorded by researchers Ulla Pipaluk Zobbe and Lars Lorentsen on April 16, and first made public on Sunday.
It has caused an outcry in Denmark since being published, with many demanding that the shooter be jailed.
Guillaume Chapron, associate professor at the Swedish University of Agricultural Sciences, told
The Guardian
that the killing was 'completely unacceptable'.
He said the wolf was showing no sign of aggressive behaviour before it was shot but 'rather a mix of caution and curiosity.'
Wolves were hunted to extinction in Denmark some time in the early 1800s.
There was anecdotal evidence that the animals had returned to the country some time around 2012, with confirmation coming in May last year.
Scientists testing fecal matter found in the country's sparsely-populated agricultural region confirmed the presence of at least five wolves.
Most intriguing was the discovery that there was at least one female among their number, raising the prospect of cubs being born this year.
Researchers refused to reveal their exact location for fear they would be targeted by hunters.
It is thought that the wolves were originally from Germany but had been rejected by their pack before walking 310 miles to Denmark to find new hunting grounds.