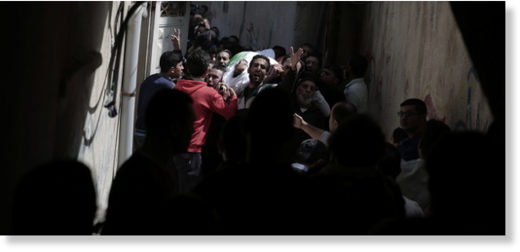 Faced with the unimaginable choices of being shot by snipers, crushed by rubble from an air strike, or dying slowly as the Strip becomes more uninhabitable with each passing day, Gazans have made it clear that they will resist until the very end.
Though Gaza has long been the target of Israeli hostility - which has ranged from a decades-long illegal blockade of the area to several wars of aggression - this year has arguably been unlike any other for Palestinians who call the Gaza Strip their home, as
airstrikes
pound the area and its infrastructure still struggles to function. Those Gazans who have decided to participate in unarmed protests along the border with Israel have been
regularly killed
by Israeli snipers. Meanwhile, another war with Israel
looms
.
This year began in Gaza not with fireworks but
with air strikes
, as Israel targeted Gaza during a night-time raid, allegedly responding to rocket fire from Palestinian resistance group Hamas. The strikes continued throughout January and into February, followed by more airstrikes in March targeting central Gaza and agricultural land in the area. Israel has used many alleged incidents as pretexts for the strikes, ranging from reports of rocket fire to alleged breaches of the border fence.
The airstrikes worsen the already delicate situation in Gaza, where critical infrastructure - like hospitals, water and power - continues to function against all odds, but barely. As Israel has repeatedly
targeted vital infrastructure
, famously destroying the Strip's only power plant in 2014, most of Gaza's population is without running water, functional sewage treatment, or a regular supply of electricity.
Israel's decades-long blockade of Gaza prevents the equipment and material necessary to rebuild from entering.
It also prevents Gazan civilians from leaving, despite the fact that the UN estimated that the Strip will be entirely unfit for human life in
less than two years
.

Comment: And that's the idea: Slowly squeeze the life out of the Palestinians, and pick them off one at a time if necessary so that it can't quite be called genocide. And of course blame Hamas for everything.


As the situation in Gaza grows worse by the day, thousands of Palestinians have been marching since late March to demand the right of exiled Palestinians to return to their native land.
Though the protesters have been unarmed, thousands of them have been shot by Israeli soldiers, resulting in at least
39 deaths
.
Israeli generals
have confirmed
that snipers are under orders to shoot civilians and have even been instructed to deliberately target children
. On Saturday, Brigadier-General Zvika Fogel, when asked about the death of a 14-year-old Palestinian participating in the march,
described
how a sniper identifies the "small body" of a child and obtains the authorization to shoot, noting that a higher-up in the Israeli military "marks the target for him [the sniper]." This statement underscores the deliberate nature of targeting children.
Fogel also stated that "If this child or anyone else gets close to the fence in order to hide an explosive device or check if there are any dead zones there or to cut the fence so someone could infiltrate the territory of the State of Israel to kill us ... his punishment is death."
Gazan hospitals, already running on minimal resources, are being
further burdened
by the thousands of protesters who have been wounded by live ammunition since the march began. Hospital staff have remarked that the influx of wounded has awoken painful memories of Israel's past war against Gaza, as doctors in the Strip have now treated
more people
for gunshot wounds than they had during all of 2014 - the year of the last war in Gaza.
Those memories of wars past may give rise to new ones, as Israel has been actively preparing to launch another war against Gaza - one that is likely to take place over the course of this year.
It could begin as soon as
next month
when a new "intifada," or uprising, is set to take place as the U.S. embassy moves from Tel Aviv to Jerusalem.
Reports have quoted officials of Hamas, which governs the Gaza Strip, as saying that they place the chances of a new war with Israel in 2018 "
at 95 percent
." T
he high probability of a conflict was also
mentioned by
IDF Chief of Staff Gadi Eizenkot, who stated that another Israeli invasion of Gaza was "likely" to occur this year
. Eizenkot
ironically framed
the imminent invasion as a way to "prevent a humanitarian collapse" in Gaza, suggesting that military action against Gazan civilians and infrastructure would somehow improve the daily lives of the Strip's inhabitants.
U.S. No-Comments Absurd And Dangerous Israeli Assertion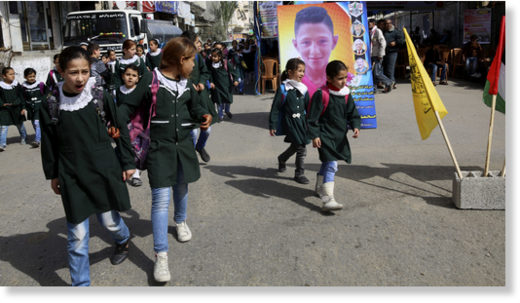 Yet, the horrendous humanitarian crisis in Gaza, a direct consequence of Israeli policies, is of little consequence to Israel's staunchest ally, the United States, which recently refused to recognize that Gaza -
home to 1.8 million
- contains even a single civilian, giving Israel free rein to treat the entire area as a "terrorist" enclave.
During a press briefing earlier this month, State Department spokeswoman Heather Nauert
was asked
if Gaza was a civilian area after Israeli Defense Minister Avigdor Lieberman, claiming that everyone in Gaza has direct links to Hamas "terrorists,"
asserted that there were
no "innocent" people
inhabiting the Strip. Nauert refused to even comment, despite the fact that
half of Gaza's population
is under the age of 18.
Nauert's unwillingness to comment does not bode well for the civilians in Gaza, as
it offers no challenge, not even a perfunctory one, to Israel's assertion that anyone and everyone living in the enclave is
a military target.
However, despite the fact that Gazans know that they - regardless of age, gender, occupation or affiliation - are all targets for Israeli aggression, they remain defiant. Protesters continue to march, even though they know that it could well be the last decision they ever make. Faced with the unimaginable choices of being shot by snipers, crushed by rubble from an airstrike, or dying slowly as the Strip becomes more uninhabitable with each passing day, Gazans have made it clear that they will resist until the very end - embracing
the words
of imprisoned Palestinian politician Marwan Barghouti: "Our chains will be broken before we are."
Watch: Heather Nauert Deflects Questions on Human Rights Concerns in Gaza
Whitney Webb is a staff writer for MintPress News and a contributor to Ben Swann's Truth in Media. Her work has appeared on Global Research, the Ron Paul Institute and 21st Century Wire, among others. She has also made radio and TV appearances on RT and Sputnik. She currently lives with her family in southern Chile.