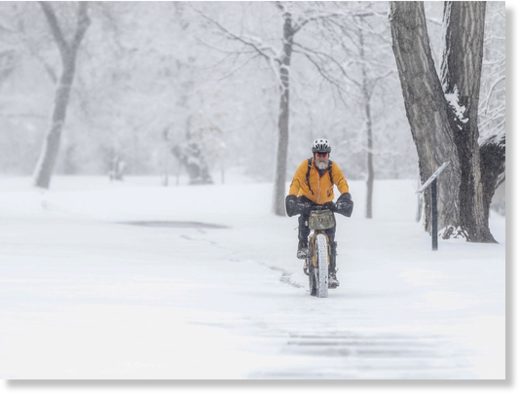 A little winter. A little spring. A dash of summer.
Mix them all together and you get one crazy storm system, perfectly suited for a Friday the 13th arrival date.
Mother Nature's science experiment exploded Friday, bringing rain, snow and tornadoes to a huge swath of the Great Plains and Midwest, even stretching down into the south.
In Rapid City, what started out as rain late Thursday eventually turned to snow overnight and kept a steady flow of flakes falling throughout the day Friday.
As of 6 p.m. Friday, downtown Rapid City had accumulated 9.3 inches of snow.
Blizzard and winter storm warnings were in effect for much of western South Dakota Friday, leading to the closures of many government offices, schools, private businesses and roads.
South Dakota highway officials closed about 280 miles of Interstate 90,
from Rapid City to Mitchell, by Friday mid-afternoon because of heavy snow and strong winds that created hazardous driving conditions.
"Fortunately, we haven't had the wind," said Meade County sheriff Ron Merwin, who praised residents for heeding weather warnings and staying off roads, for the most part.
Merwin said he and his deputies were assisting a couple of motorists whose vehicles had slid off Highway 34 east of Sturgis on Friday afternoon. But overall, he said his office hadn't encountered many issues from the storm.
Merwin was pleased to hear of the weather service downgrading the winter storm warning to an advisory mid-afternoon Friday.
But a snowstorm in April doesn't seem very surprising given this year's abnormally cold and snowy winter and spring.
Some of the heaviest snowfall in western South Dakota were recorded in New Underwood (13.5 inches), the Meade County community of Elm Springs (12 inches) and the Perkins County community of Usta (11 inches), according to National Weather Service data as of Friday afternoon.
Martin, meanwhile, looked to fulfill the forecast of getting up to 2 feet of snow, the most in West River. It received 5 inches by late afternoon Friday, but could see up to 18 more inches Saturday morning as the storm continued to move east.
April is historically one of the snowiest months in Rapid City,
but this month's snowfall has already far exceeded the average. Friday's accumulation puts the month's total at 18.4 inches,
almost four times the usual 4.7 inches in April, according to the weather service.
But Friday's storm doesn't stand up to the heaviest Rapid City snowstorms recorded in April. On April 22, 2001, the city got dumped with 19.2 inches of snow. And in 2013, 22.4 inches piled up between April 8 and 10.
The area near Winner registered the strongest wind gusts of 58 mph, in line with predictions. In comparison, the peak in Rapid City was around 40 mph.
Friday brought unlucky weather to a wide swath of the Great Plains and Midwest, including blizzard warnings from Kansas to South Dakota and tornado threats from Texas and Lousiana, all the way north to Iowa.
Gov. Dennis Daugaard closed state government offices in 32 counties ahead of the approaching blizzard. Dozens of school districts canceled classes ahead of the storm. Rapid City had already received 5.5 inches by 10 a.m.
The snow also led officials to shut down the Sioux Falls airport Friday afternoon through Saturday night.
Weather authorities warned also of driving hazards West River, saying wet roads "may freeze up after sunset."