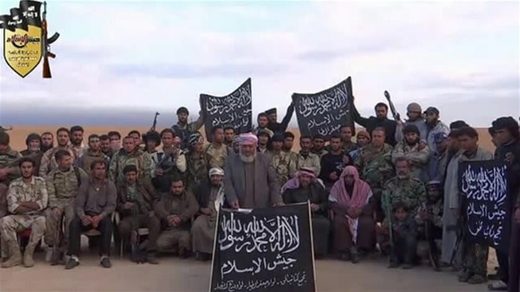 The rebel group which is in control of the Douma region in Syria, the site of an alleged chemical attack which has been blamed on the Assad regime, was itself accused of using forbidden weapons on Kurds in 2016.
Jaish al-Islam (Army of Islam) was formerly known as Liwa al-Islam (Brigade of Islam) and is a coalition of Salafist Islamist militant groups based in the Douma and Eastern Ghouta regions of the Syrian capital of Damascus.
Douma was the site of an alleged chemical weapons attack where up to 43 people were killed and it has been blamed on the Syrian regime.
But according to reports from news outlet Kurdistan 24, the group admitted it used chemical weapons in a mainly Kurdish populated area in the city of Aleppo, northern Syria in April 2016.
In an official statement, Jaish al-Islam said: "One of the field commanders in Aleppo used weapons that he was not authorised to use in these kinds of confrontations."
The group claimed the brigade commander was summoned to a military court, adding: "He has been referred to the Military Justice to receive the proper punishment."
Redur Khalil, a spokesman for the Kurdish People's Protection Units (YPG) in Syrian Kurdistan, said: "The group's statement came after many conclusive evidences and reports of chemical gas being used in shelling Aleppo's Sheikh Maqsoud district."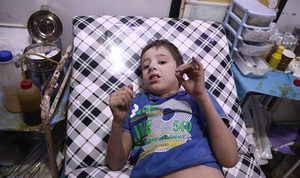 He added that Jaysh al-Islam and al-Qaeda affiliated Nusra have used forbidden weapons on Kurds many times before.
Director of The Kurdish Red Crescent Health Centre in Aleppo's Sheikh Maqsoud neighborhood, Doctor Welat Mamo, said four civilians were poisoned due to chemical attacks.
He said: "Those affected by the assault demonstrated difficulty breathing which made it possible to affirm that they were poisoned as a result of the use of banned toxic gases such as chlorine or other agents.
"All our patients have similar symptoms."
It was also reported in the Daily Beast residents of al-Sheikh Maqsoud - the eastern half of Aleppo - said the rebel group were shelling the neighbourhood indiscriminately and killed hundreds of civilians as well as using shells filled with chemical gases.
Muhammad Hajji, Aleppo city head of the Kurdish Democratic Union Party (PYD), said: "Our children are under the rubble, civilians are under the rubble!"
The YPG is the armed wing of the PYD, the Syrian affiliate of the secular Kurdistan Workers Party (PKK). It is considered to be a "terrorist" organisation by Turkey, who is currently waging an aggressive war called Operation
Olive Branch
to remove the YPG from northern Syria.
Turkey supports Jaysh al-Islam along with Saudi Arabia, Qatar and it is part of a larger coalition called the Islamic Front.
Jaish al- Islam also described the Al-Nusra Front as "brother" fighters. The coalition seeks to make Syria a country ruled by Sharia Law.
But the group is considered a terrorist organisation by Syria's allies Russia and Iran, as well as Egypt.
In 2015, Jaysh al-Islam released a video of the execution of captured Islamic State fighters.
The group was also accused of using caged men and women as human shields in Ghouta.
Syria and its ally Russia have vehemently denied the chemical attack last Saturday took place and have accused the group of making "chemical attack fabrications in an exposed and failed attempt to obstruct advances by the Syrian Arab army".