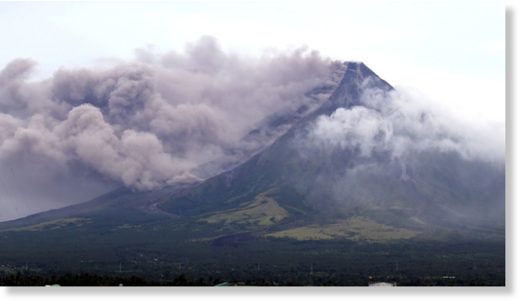 After days of a generally restive behavior, Mayon Volcano again emitted lava and ash on Friday morning, the Philippine Institute of Volcanology and Seismology (Phivolcs) said.
The agency recorded a lava collapse from 10:39 a.m. to 10:50 a.m.
"The emission may be due to the lava build-up which may have been triggered by possible rainfall in the area," Phivolcs project research officer Jerome de Lima said.

Minimal ash fall was also recorded in the towns of Camalig and Anoling.
De Lima said alert level would not be lowered unless volcano activity ceased.
"We are still actively monitoring Mayon's behavior. We are not yet considering a possible decline in the alert level anytime soon," he added.
On March 5, Phivolcs downgraded the alert level to 3 because of "general decline in unrest" of the volcano.
Alert Level 3 indicates a decreased tendency toward a hazardous eruption.
The agency first detected a volcanic eruption on January 13 and raised Mayon's status to Alert Level 4 on January 22 that meant a hazardous eruption was imminent.